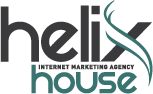 The system is all-inclusive and brings together two highly effective segments of Internet marketing and Internet advertising.
Albuquerque, NM (PRWEB) May 15, 2014
Helix House, considered a world-class Internet marketing and Internet advertising agency announces helixConnect. This newest product designed and presented by Helix House offers a unique way for businesses to maximize their Internet advertising and Internet marketing investment dollars. The system is all-inclusive and brings together two highly effective segments of Internet marketing and Internet advertising. The first of these is a combination of search engine optimization and search engine marketing along with social media marketing. The second component is simply the daily tasks that must be performed on-site for a website to remain relevant with the search engines. This includes blogging and the addition of articles and fresh content to a website on a regular basis. helixConnect is innovative in that it allows businesses to select from various components of these two important parts of overall Internet marketing as a way to custom tailor a program to fit their advertising and marketing budget.
One of the most unique features of this highly customizable all-inclusive system presented by Helix House is that expert account representatives are able to strategically place a client in as many products as is financially possible. This is an excellent way for businesses to maximize the overall effectiveness of their advertising and marketing dollars. Helix House is an industry leader when it comes to saving businesses money on Internet marketing and Internet advertising. No other Internet marketing agency in the industry compares in terms of giving customers the most for their dollar. helixConnect features a variety of important components including search engine optimization as well as search engine marketing and remarketing. Other key components include content creation, blog creation, local search optimization and press releases as well as effective social media marketing.
Helix House is taking Internet marketing and Internet advertising to an entirely new level with the introduction of helixConnect. Quality content plays an especially important role in helping businesses achieve the desired online visibility that they wish to achieve. Helix House features staff writers that are able to generate high-quality content across a wide spectrum of industries and subjects. This quality content is the basis for all good Internet marketing strategies. Search engine algorithms have become surprisingly good at detecting quality content and will either award or penalize websites based on the amount of original content that appears on a site. Blogs are equally important because they provide daily updated fresh content that website visitors can turn to for wide range of information on a particular subject. Search engines have evolved over the years and most recently have become quite good at determining whether or not a website is an authority on a particular subject. This recent announcement by Helix House with regard to helixConnect is one more indication that this is a company to watch.
Helix House is a highly innovative forward-looking Internet marketing agency located in sunny Arizona and beautiful New Mexico. The company has consistently exceeded industry expectations to routinely rank highest among some the best Internet marketing companies in the country. Recognized as an industry leader this Internet marketing firm has helped hundreds of businesses across the country to gain better online ranking.