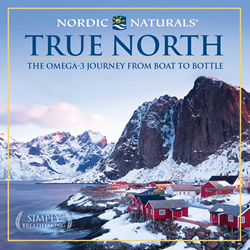 The 12-minute documentary short film unveils Nordic Naturals' unique vertical integration manufacturing process and its critical importance to product quality.
Watsonville, CA (PRWEB) May 15, 2014
Nordic Naturals, the #1 fish oil in the United States according to SPINS scan data, recently released True North: The Omega-3 Journey From Boat to Bottle. The 12-minute documentary short film unveils the company's unique vertical integration manufacturing process. Speaking on location, surrounded by Norway's breathtaking scenery, Nordic Naturals Founder and CEO Joar Opheim discusses the critical importance of vertical integration to product quality. "Our goal is to deliver fish oils to everybody, to eliminate the deficiency of omega-3," he says. "...you need something that everybody is willing to take. It needs to be pure. You can trust it. It needs to taste good. It can't be rancid. So, in order to do that, you have to vertically integrate."
The film, which can be viewed on the company's website (https://www.nordicnaturals.com/truenorth), takes viewers from Norway to California to show how Nordic Naturals meticulously manages its supply chain in order to achieve leading freshness levels in its products and to offer full traceability from catch to shipping. "It's not easy," Opheim continues. "It's very resource intensive. It's very capital intensive. But if you are going to lead a field, you don't have a choice. That's what you have to do."
According to Opheim, freshness may be the single most important quality of fish oil, ensuring product integrity and biological efficacy. "The reason our products are exceptionally fresh is because of our choice to vertically integrate our manufacturing process," Opheim says. "We filmed True North not only to show how we manage every step from boat to bottle, but also to educate consumers about why it matters so much."
Nordic Naturals' vertical integration begins at sea. The company sustainably sources the best raw material, working with fishermen who carefully handle the catch and deliver it fresh for extraction. Raw oils are purified and processed in a nitrogen-rich, oxygen-free environment at Nordic Pharma, Nordic Naturals' state-of-the-art, GMP-certified facility, located on the harbor in Tromsø, Norway. One of the most advanced manufacturing plants in the world, the 60,000-square-foot green facility is based on renewable energy. In addition to making its own biofuel, Nordic Pharma provides surplus energy to local businesses.
Finished oils are sent by boat in new, nitrogen-flushed containers to Nordic Naturals' green bottling and encapsulation facility in San Diego. Finished products are shipped from Nordic Naturals LEED gold-certified headquarters in Watsonville, California, to millions of customers around the world.
In the film, Opheim summarizes, "So what it means to be vertically integrated, at the end of the day, it means a superior product. It means a fresh and pure product that you can feel good about taking, that you can feel good about giving to your entire family and your relatives. And that's really the end of the story."
Based in Watsonville, CA, Nordic Naturals is committed to delivering the world's safest, most effective omega oils to help further its mission of correcting the global omega-3 deficiency. Distributing to more than 35 countries, Nordic Naturals offers over 200 products in a variety of flavors and formulations for adults, kids, athletes, and pets. As the number one fish oil in the United States, Nordic Naturals has revolutionized omega-3s, pioneering a new definition of fish oil quality as it relates to purity, freshness, taste, and dosage. Further information is available at http://www.nordicnaturals.com.
###