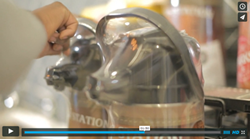 We're consumed with that happens when our people show up at your place and create the 'WOW' effect.
Carrollton, TX (PRWEB) May 15, 2014
New innovations in the office coffee service industry are typically born to overcome challenges in the field. Parks Coffee wanted to find a way to ensure that each pot of coffee was brewed into the best conditions, for optimal taste and quality. The Dallas-West Branch Manager, Larry Cox explains, "When route-men are out in the accounts, and they're trying to clean [coffee pots] in the sink; they're making noise, they're splashing water. They can break the pots." Faced with the obstacle of quickly providing cleaner pots to their customers, without risk of creating more mess or breakage on location, led the Parks Coffee team to brainstorm new solutions.
The answer came in the form of a new cleaning process, called the Fresh Pot Program (FPP). This unique method calls for route-men to return each air-pot and glasspot/carafe to the Parks Coffee headquarters for a restaurant-style cleaning and sanitization cycle. Once the pots have been thoroughly cleaned and air-dried, each is hermetically-sealed in a heated oven to protect against dust and germs, and ready to be sent back into the field. "It's something that's unique to the industry. We are the first company to accomplish that," says President Randy Parks.
In a new video released today, Parks Coffee showcases their unique methods of servicing and satisfying clients' needs and wants. This video, entitled "The Parks Coffee Difference" was created to highlight new ways the Parks Coffee company has created to ensure each client receives the "White Glove Service" standard of care. "We've been obsessed with customer service since we've started," Randy says. "It's a continual journey, as we get better and better with our customer service."
Parks Coffee (Parks & Co / ProStar Services) is a market leader in the coffee service industry, Parks Coffee provides brand name products such as Starbucks Seattle's Best, FLAVIA, and Keurig. The company has won such awards as National Automatic Merchandising Association's (NAMA) Coffee Service of the Year award, and Parks Coffee Owner/President Randy Parks has been named National Coffee Service Association's (NCSA) Operator of the Year award and the FLAVIA Outstanding Distributor Award.
Media Contact: Beth Seeber, 8008897827, bseeber(at)prostarservices(dot)com