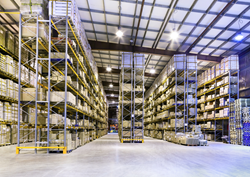 (PRWEB) May 15, 2014
Today, online linen retailer, LinenTablecloth, announced the opening of a new distribution center located just outside Vancouver, British Columbia. The 13,759 sq. ft. facility marks a cornerstone in the company's history, as it is the company's first international facility. Roughly 10% of LinenTablecloth's customer base is located throughout the Canadian provinces, and the new Vancouver facility will alleviate the company's expenses on import duties and tariffs which will allow LinenTablecloth to pass savings along to Canadian customers.
Products will be directly imported from suppliers to maintain stock of its high quality tablecloths and other table linen products within the Canadian facility. This should result in significantly reduced shipping costs and faster delivery times to customers.
Distribution capability within Canada means that Canadian customers will receive greater savings during sales and promotions because the company will bypass the sizeable cross-border shipping costs. In addition, customers' transactions will be processed entirely in Canadian dollars, thus eliminating conversion fees. Returns will be a much simpler process with the absence of customs checkpoints, so Canadian customers can expect quicker, hassle-free returns.
Rob Berrett, CEO of LinenTablecloth, stated plans to open a showroom in the distribution facility shortly following its grand opening. "We plan to service the Vancouver metro area with the new availability of linen rentals," said Ron. Customers in the local British Columbia area can expect to a see a LinenTablecloth showroom and the launch of a brand new linen rental service in the months to follow. LinenTablecloth's new distribution center is now fully operational and can be accessed here.
About LinenTablecloth:
LinenTablecloth, a Berrett Brothers Inc. company, is the leading online retailer of tablecloths, chair covers, and other table linen products. The company owns a manufacturing facility located outside of Shanghai, China where product quality and consistency is carefully monitored.
Since 2005, LinenTablecloth has been the preferred online linen shopping site of brides, wedding planners, party planners, and event coordinators in the United States and Canada due to its affordable hotel and restaurant quality linens. The Oregon-based company is known for its excellent customer service, fast shipping and customer-friendly return policy. LinenTablecloth provides telephone support through its toll-free hotline: (877) 835-5617. Its online storefront, http://www.LinenTablecloth.com, offers a wide selection of linens for homes, special events, hospitality and service industries.