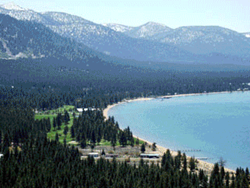 VirtualTahoe.com has named Forest Suites, Camp Richardson, and 3 Peaks Resort and Beach Club as the top hotels to book for spring 2014.
Lake Tahoe, CA (PRWEB) May 16, 2014
Today, VirtualTahoe.com, Lake Tahoe's official online guide for North and South Lake Tahoe hotel accommodations, has named Forest Suites, Camp Richardson, and 3 Peaks Resort and Beach Club as the top hotels to book for 2014.
With 70 hotels in Lake Tahoe South alone and additional ones in Incline Village, NV, North Shore, CA, West Shore and Truckee, choosing a hotel can be a daunting task for the traveler. Virtual Tahoe.com helps travelers review, compare, and find what they need when planning a trip to Lake Tahoe. Leave the work to the professionals and enjoy VirtualTahoe.com's picks for spring 2014 hotels. The three hotels are:
1.) Camp Richardson
Camp Richardson is located just minutes from world-class ski resorts and casinos on one of the most beautiful lakes in the world, Lake Tahoe in South Lake Tahoe, CA. Open year round this spectacular lakeside resort offers lodging, full service marina during the summer months, cross country ski resort during the winter, and beach-side dining year round.
Camp Richardson offers packages for significant seasonal savings. These include Walk in Specials, $55 per night, or 20-30% off cabins available on Sunday through Thursday, when reserved on the same day as first night stay, available through May 15th; National Bike Month Celebration during May, a $200 package for two nights in the Historic Hotel or Beachside Inn (double occupancy), two adult all day bike rentals, two box lunches, and four continental breakfasts in the General Store and Deli, valid May 1 through 23, 2014; Armed Forces Salute, one free night for every night reserved, just show your active duty Military ID or your VA card to receive second night free. Stay four nights and the guest gets two nights free with up to five free nights on any of the accommodations. Also, the hotel gives discounted continental breakfasts in their General Store and Deli, valid May 15 through 19, 2014; valid April 15 through May 23, 2014 Buy One Get One Free, one night for every night reserved, up to five nights are free with a ten night stay.
2.) 3 Peaks Resort & Beach Club Tahoe Hotel
3 Peaks Resort & Beach Club is located two blocks away from their private, members' only beach and three blocks from the Lake Tahoe casinos with plenty of fine dining nearby. Their prices are guaranteed to be the lowest in the Lake Tahoe area.
Also, the hotel is located just two blocks from the famous Heavenly Valley Gondola. The hotel has large wooded grounds from Park Avenue on the West to Pine on the South and Manzanita on the North. If you're into hiking, biking, fishing, swimming or relaxing, you will find easy access to all at the 3 Peaks Resort & Beach Club Hotel. The hotel and beach club guarantees that you will not find lower prices than their hotel cost on any other web site within 15 minutes of making a booking directly with them. If you do, they will match it plus give you $20 off your stay.
You may call ahead for a beautiful basket of luxury treats: truffles, red roses, champagne, caramels, specialty sausage, chardonnay or almonds to be arranged and waiting to welcome you to your suite.
3.) Forest Suites Hotel
Located on a mountain slope in South Lake Tahoe, Forest Suites Hotel features ski-in/ski-out access near Van Sickle Bi-State Park, Heavenly Ski Resort and Heavenly Village. Also, nearby are Edgewood Golf Course and Ski Run Marina. The resort is an easy 1 mile distance from the center of town, and approximately a 90 minute trip from the airport.
Room amenities include flat-screen televisions with premium cable channels with Internet access, air conditioning, and DVD players and separate massage treatment rooms and an outdoor pool. There is a full kitchen in each one or two bedroom suites making this hotel very family friendly. The property is a 3-minute walk from the casinos and a 1-minute walk to the gondolas. Hotel facilities include hot tubs and saunas, laundry service, concierge, shops, babysitting, and a business center. Many reviews by guests offer glowing remarks about the courtesy and helpfulness of the hotel staff.
For a full list of hotels in Lake Tahoe visit http://www.virtualtahoe.com/Pillows/index.html
About VirtualTahoe.com:
VirtualTahoe.com, Lake Tahoe's number one online guide, provides quality information on all things Tahoe. Use VirtualTahoe.com to find information on everything Lake Tahoe from vacation lodging and casinos to ski resorts and boat rentals.