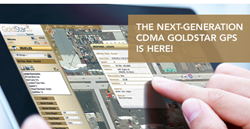 Spireon's relationship with Sprint demonstrates our long-standing focus on providing our customers with next-generation product innovation that protects their technology investment today and into the future.
Irvine, cA (PRWEB) May 15, 2014
Spireon, the leading M2M provider of mobile resource management (MRM) and business intelligence solutions, announced today that its award-winning GoldStar GPS and LoanPlus CMS automotive collateral management platforms now offers enhanced telematics capabilities on the Sprint CDMA wireless network.
Spireon's CDMA-based telematics solutions will deliver a much richer and more interactive level of business intelligence, enabling automotive dealers and lenders nationwide to more cost-effectively monitor and manage automobiles on risk mitigation and expand their loan portfolios to a wider range of borrowers.
"Spireon's relationship with Sprint demonstrates our long-standing focus on providing our customers with next-generation product innovation that protects their technology investment today and into the future. We believe the Sprint CDMA technology offers greater longevity and helps shelter our customers from the 2G sunset implications of today's GSM networks," said Marc Brungger, CEO of Spireon. "Our customers will benefit from the CDMA network's faster speeds, strong network and larger bandwidth with even better access to vehicle data. With our direct partnership with Sprint, we are able to offer CDMA technology at a competitive value to our customers."
Key benefits for the automotive finance community include:

Faster network access and data speeds for faster vehicle locates
Expanded coverage and more reliable connections — even in rural & remote areas
11th Generation CDMA Talon enables more data and more insights - today and tomorrow
"Sprint is proud to bring improved wireless connectivity to Spireon and its customers," said Brian Miller, Sprint regional vice president. "Spireon customers are guaranteed ongoing network support and a much richer and interactively rewarding CDMA solution, including a path to higher speeds, if needed. This is yet another benefit of the strategic relationship recently announced by Spireon and Sprint."
"Over the past 2 years, we've been investing millions of dollars into our next generation SaaS-based M2M platform," says David Meyer, EVP of Sales and Service at Spireon. "We've already shipped nearly a million NSpire enabled Talon devices over the past 18 months; and now with the rollout of Spireon's award-winning Automotive Collateral Management Platform updated with CDMA technology, we are looking to redefine the automotive industry standards by delivering unprecedented performance, scalability, security, network coverage and services."
Spireon's automotive collateral management platform leverages the newest technology and is architected to take collateral management to the next level. Spireon's solutions are actively deployed in more than 1.7 million vehicles in the U.S. across the multi-vertical markets they serve. The technology innovation goes well beyond providing vehicle location and tracking services that dealerships can use to help improve the recovery process. The Spireon platform is an intuitive, web based application that includes rich features such as interactive mapping, customizable reports, data security, customizable geo-fences and turnkey installation.
About Spireon's Automotive Solutions Group
Spireon, the largest provider of automotive aftermarket embedded telematics, provides a wide range of automotive business intelligence solutions. Spireon's GoldStar GPS and LoanPlus CMS information platforms connect automotive dealers and lenders to real-time vehicle information they need to expand their auto loan portfolios and provide financing for a broader range of customers. The real-time rich data also helps protect vehicle assets, reduce risk, decrease costs to drive the bottom line while also providing positive consumer impact. Learn more about vehicle finance solutions at spireon.com.
To learn more about the award-winning collateral management systems powered by NSpire, visit GoldStar GPS and LoanPlus CMS.
About Spireon
Spireon, Inc., is at the summit of business intelligence and committed to going higher. With its corporate headquarters in Irvine, CA, the company emerged in 2011 as the industry leading Mobile Resource Management (MRM) company as a result of the merger of ProconGPS, Inc. with EnfoTrace and PFS, LLC, the top three providers in the MRM space. Spireon connects companies to their mobile assets and workforce through game changing information platforms, giving them the power to manage actionable business intelligence. Its trusted brands include market share leader GoldStar GPS®, EnfoTrace GPS™, FleetLocate®, VehiclePath™ and LoanPlus CMS™. Inspiring companies to reach new heights with powerful Software-as-a-Service (SaaS) based tools; Spireon provides a sturdy foundation on which to optimize performance.
With leading market positions in the fleet, transportation and automotive telematics markets, Spireon, Inc. specializes in developing strong business relationships with leading companies worldwide, enabling it to offer affordable world-class risk mitigation, mobile resource management and location based services to its customers.
For additional information, please visit Spireon Inc.'s website http://www.spireon.com and Twitter.com/Spireon.