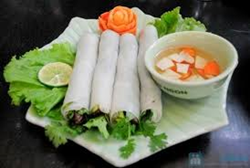 (PRWEB) May 19, 2014
Smile Travel Vietnam is a leading travel agency in Vietnam providing tourism services such as Vietnam visas, home-made tour packages and airfares. Smile Travel Vietnam agency not only offers perfect and hospitable services but also provides useful travel information. Recently, the agency has added some Vietnamese dishes on its homepage.
Some special dishes in Vietnam are very well-known such as Pho Ga (chicken noodle), Nem Cuon (spring roll) and Com Hen (Hue Mussel Rice). Furthermore, traditional Vietnamese food is mentioned on the website. Banh Chung (Sticky rice cakes), for instance, is a Vietnamese traditional dish that must be part of Tet meals. Bang Chung is made of glutinous rice, pork meat, and green beans paste wrapped in a square of bamboo leaves, giving the rice a green color after boiling. Besides Sticky Rice cakes, Bun Thang (Mixed noodle soup) is an unique of Hanoi. Hanoian often enjoy the soup after the Lunar New Year holiday. Like other kinds of noodle soup, Bun Thang delicacy uses similar ingredients: rice noodles blanched briefly in boiling water, broth, some protein, spices. The broth is prepared from chicken broth cooked with prawns, shelled shrimp or sa sung (sea leech).
Vietnam is a land of striking landscapes ranging from lush rice terraces and forested mountains in the north to the picturesque valleys of the Central Highlands to the fertile delta and beautiful beaches of the south. With the balance between fresh herbs and meats and a selective use of spices to reach a fine taste, Vietnamese food can be considered one of the healthiest cuisines worldwide.