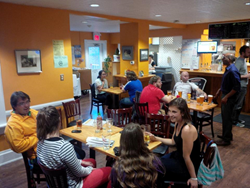 Waterloo, Ontario (PRWEB) May 15, 2014
Canada's leading restaurant furniture manufacturer and distributor, Restaurant Furniture Canada, recently helped the Graduate Student Association of the University of Waterloo update the seating in the Grad House by supplying it with new American made commercial chairs.
The Graduate Student Association (GSA) is a student-run not-for-profit organization whose membership consists of the graduate students of the University of Waterloo. The Graduate Student Association (GSA) owns and operates the Graduate House as an exclusive private club. Their membership is comprised of Waterloo graduate students and members of the greater university community. They provide services that cater to the desires of their members.
The Graduate House, a not-for-profit business/service housed in the original farmhouse on the south campus of the University of Waterloo. The Graduate House has a relaxed and inviting atmosphere. The upper lounge is a great spot for marking papers, celebrating a thesis defense, holding a small presentation or hosting a small social gathering. The fully licensed boardroom is perfect for meetings and small private gatherings. The outdoor rooftop patio is a nice place to unwind and enjoy fresh air. The large main floor features a multi-functional room for medium sized gatherings, live music and larger presentations. The main bar area is an excellent place to drop in to connect with old and new friends.
The Graduate House manager recently decided to upgrade the seating for the Grad House. "The manager contacted Restaurant Furniture Canada for new chairs because of their reputation for high quality at competitive prices", salesperson Chris explained. "He decided to go with Restaurant Furniture Canada's Premium Vertical Slat Wood Chairs in mahogany finish and padded black vinyl seats. Customers can choose between a solid wood seat or an American made padded seat upholstered in vinyl or fabric. The seats can be custom upholstered in any material for an additional cost."
Restaurant Furniture Canada's Premium Vertical Slat Wood Chair currently sells for $95. A matching bar stool is also available for $106. Customers can choose from 6 different finishes or have a custom finish made for an additional charge. Like many of Restaurant Furniture Canada's wood furniture, the Premium Vertical Slat Wood Chairs and Bar Stools are made in the USA from wood responsibly harvested in the Midwest.
"The Premium Vertical Slat Wood Chairs were just what the manager of the Graduate Students Association was looking for," Chris said. "The Premium Vertical Slat Wood Chairs are very popular chairs with restaurant owners throughout North America. They are comfortable and functional, with the long-lasting durability and are reputed for their fine craftsmanship".
To browse Restaurant Furniture Canada's full selection of chairs, bar stools, table tops, table bases, booths and patio furniture visit http://www.restaurant-furniture.ca/ or talk to a customer service representative at (888) 998-4222 for answers to all your questions on restaurant furniture.
The Graduate House is located at 200 University Ave. West in Waterloo, Ontario. They can be contacted at: (519) 888-4567.