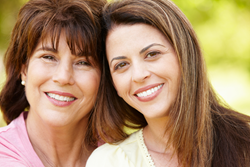 Whether a bride and her mother are undergoing a surgical or non-surgical procedure, these are a few excellent options to get the perfect look for wedding season.
Newport Beach, CA (PRWEB) May 17, 2014
With wedding season approaching quickly, now is the perfect time for brides and their mothers to consider how they can look their very best for this momentous occasion. A wedding is a the perfect reason for a woman to update her look. Many brides and their mothers lose weight, try a new hairstyle or undergo a complete makeover so that they can look their very best on this special day. Dr. Kevin Sadati, board certified facial plastic and reconstructive surgeon, has helped many brides and their mothers look flawless for wedding season. For women who are considering surgical and non-surgical plastic surgery, he recommends the following cosmetic procedures for a refreshing new change that's subtle yet effective:
1. A Lower Face & Neck Lift: Also known as the Natural Lift, this is a face and neck lift procedure perfected by Dr. Kevin Sadati. It is performed in-office without the need for general anesthesia and is ideal for those considering a facelift with natural-looking, long-lasting results. A Natural Lift can add lost definition to the jawline after significant weight loss and can improve the skin around the neck and cheeks after it begins to sag from aging, making this lower face and neck lift an excellent choice for a bride's mother or the bride to be. Performing over 2,500 Natural Lifts Dr. Kevin Sadati is known for his sophisticated results, making patients appear well rested, rejuvenated and ten-years younger without the tell tale signs of plastic surgery.
2. Fat Grafting with PRP: One of the leading causes of aging is the shrinking of fatty tissue underneath the skin. This results in flattened cheeks and intensified wrinkles around the mouth and eyes. Fat Grafting with the use of Platelet Rich Plasma, or PRP, using the natural fat tissue from the patient's body, mixed with growth factors from the patient's own blood, to fill in wrinkles and sunken areas of the face. Fat Grafting to the face is an excellent choice for the bride's mother if she is hoping for a youthful change that can take years off her appearance with natural, long-lasting results. Fat Grafting is also ideal for the bride if she is looing to add, or restore, volume to different facial features.
3. Botox® and Dysport: These prescription medications are injected into the patient's muscle to reduce and remove the appearance of fine lines and wrinkles, or lift their eyebrows. This cosmetic procedure is an easy choice for women who want something quick, with no down time. Botox® and Dysport can be used by anyone showing the first signs of aging.
4. I njectable Fillers: Dr. Kevin Sadati carries many different derma fillers in his office such as Juvederm® XC, Juvederm Voluma ™ XC, RADIESSE®, Perlane and more. Every patient's concerns and facial features are different so Dr. Kevin Sadati uses these different derma fillers to correct lost facial volume from aging and to help add volume to areas that a patient wants to accentuate. Both brides and their mothers can benefits from this no-surgical cosmetic procedure.
5. Fractional CO2 Laser Resurfacing: Fractional CO2 laser resurfacing is a god choice for either a bride or their mother who wants to remove fine lines, even out their skin tone or brighten up their skin. Laser resurfacing can help remove signs of sun damage, acne scarring or hyperpigmentation from the face. Fractional CO2 laser resurfacing is an in-office procedure that revitalizes a person's face by restoring damaged skin. Dr. Kevin Sadati recommends using this procedure at least one month in advance of the wedding, as redness, swelling and irritation can sometimes result from the resurfacing process but will subside within this timeframe.
6. Non-Surgical Rhinoplasty: A wedding can be the perfect time for a bride or her mother to consider a non-surgical nose job. A new nose can make a woman feel more confident and photogenic, excited to be featured in wedding pictures and videos. Derma fillers, such as RADIESSE®, can reduce the nasal hump by filling deep within the nose.
7. Chemical Peel: Any wedding guest who wants to look renewed refreshed should consider a chemical peel. This highly effective procedure renews facial skin by removing old, dead and damaged skin from the face. Like laser resurfacing, a chemical peel should be completed at least four weeks before the wedding.
Whether a bride and her mother are undergoing a surgical or non-surgical cosmetic procedure, these are a few excellent options to get the perfect look for this year's wedding season.
To learn more about any of these procedures or to schedule a complimentary cosmetic consultation with facial plastic surgeon Dr. Kevin Sadati at the Gallery of Cosmetic Surgery in Newport Beach, Calif., visit http://www.galleryofcosmeticsurgery.com or call 949-706-7776.