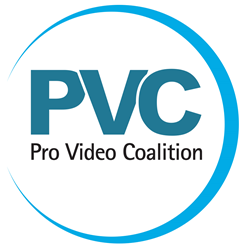 Portland, Maine (PRWEB) May 15, 2014
ProVideo Coalition, the leading online news resource for video professionals, will host a free webinar on Thursday, May 22 at 11:00 PST: The Role of VFX and Color in Controversial Films. The webinar will be presented by Assimilate, EIZO and Microsoft Surface.
Participants in the free webinar can discover how Lars von Trier's films ravish and revolt audiences across the world. Never a stranger to controversy, Lars von Trier's Nymphomaniac Vol I and II have made quite an impression on audiences all over the world. One reviewer said that Vol I is "a pornographic work of art-obsessive, repetitive, at times remarkably eccentric, but never simple-minded or dull" while another said Vol II "ultimately offer as much insight into the female psyche as one of those tampon commercials that shows a woman cheerfully riding a horse down a sun-dappled beach." Many people felt just as strongly about Melancholia, as the film "will haunt you for days, maybe weeks." It's often said that the worst thing a film can do is fail to elicit a response, so director von Trier has to be considered a success on that level at least.
VFX and color are able to impact an audience's emotions and feelings in obvious and subtle ways, which means understanding how these conceptualized looks and radically different visual experiences work is essential. Peter Hjorth, VFX designer and colorist, will take participants through his journey working with von Trier on these films and will also discuss some of the challenges they faced using VFX to tell these provocative stories; he'll also guide participants through specific shots and scenes from both films and will take live questions at the end of the session.
Audiences are impacted by every choice a film director makes, and being able to hear about these choices will be an invaluable experience during this live webinar.
Registration is free for "The Role of VFX and Color in Controversial Films" Webinar.
To register, click here: http://ow.ly/wTkG5.
About ASSIMILATE® Inc. | http://www.assimilateinc.com/
ASSIMILATE® Inc. is the developer of SCRATCH®, an industry-leading digital cinema engine that continues to revolutionize the movie industry. The SCRATCH digital workflow enables digital cinema and broadcast artists to generate dailies, conform, color correct and finish within a single, user-friendly and powerful solution. ASSIMILATE has been an innovator in digital cinema since its inception nearly 10 years ago and has been an ongoing, critical partner with another industry groundbreaker, RED.
About ProVideo Coalition | http://provideocoalition.com/
ProVideo Coalition brings together the industry's best writers, bloggers and video gurus under one url. Each writer maintains their own blog, with the site's content management system dynamically sharing articles, tutorials, reviews, video clips and other media across the individual channels or sites. PVC has become the leading resource for video professionals, including studios and independent filmmakers. This award-winning site provides comprehensive information on both production and post-production in multi-distribution film, online, mobile, and broadcast environments.
###