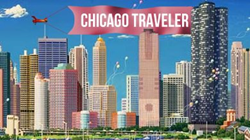 Everyone is ready for summer, especially after this last winter, so we've put together some ideas to help kick off the warm weather this year!
Chicago, IL (PRWEB) May 16, 2014
Chicago is a sight to behold during the summer. Lake Michigan glimmers in the hot sun, the parks are lush, and the streets bustle with locals and tourists who have the fortitude to survive a harsh Chicago winter. With all of this, freebies and deals for attractions are easy to find in Chicago. Today, ChicagoTraveler.com, a tourism site dedicated to everything Chicago, announced its list of top outdoor things to do this summer 2014.
"Everyone is ready for summer, especially after this last winter," explains Lindsey Skinner, editor of ChicagoTraveler.com. "So we've put together some ideas to help kick off the warm weather this year!"
I. Navy Pier
Navy Pier is a bustling 1.5 mile long boardwalk that will please every visitor to this city. Attracting over eight million visitors per year, it is lined with restaurants such as Capi's Italian Kitchen, Billy Goat's Tavern and Bubba Gump. It is also studded with small shops that sell everything from Chicago souvenirs to toys and apparel.
Although the shops can keep a person occupied for hours, there are plenty of other activities at Navy Pier to fill their day. They can enjoy a ride on the boardwalk's 15-story Ferris wheel or enjoy a theatrical experience at the Shakespeare Theater or IMAX Theater.
Once visitors have explored the pier, they can leave through one of the many cruises that depart from it. There are a number of cruising vessels of different sizes that offer rides around the Chicago River or Lake Michigan for anything from a full multi-hour dinner cruise to a short jaunt.
II. Millennium Park
Locals and visitors alike should make at least one trip to Millennium Park. While the Cloud Gate (the infamous Chicago "Bean")is the shining star of all photo sessions, there is lots of great scenery that will leave visitors awestruck. Crown Fountain features a couple of 50-foot glass-block towers at each end of a shallow reflecting pool. It projects video images of Chicagoans' faces. Sometimes, water appears to come out of an individual's mouth much to the delight of groups of children who shout with delight as they get soaked.
New to Millennium Park is the whimsical Tanuki that was created by Japanese Artist Jun Kaneko. Tanuki is a devious trickster that causes lots of trouble. However, in Millennium Park, it is adorned with stripes and dressed in bright colors and polka dots seemingly welcoming visitors at the park's northern edge.
While at Millennium Park, people should also head from the southernmost end of the park's bridge into the Art Institute of Chicago's new modern wing. Everyone will surely be blown away by its beautiful view as it provides a unique vantage point of the park and the city of Chicago below.
III. Bike Tours
People should also try out Chicago bike tours that allow them to explore the city like they never have before. Bike tours through the Lakefront neighborhoods will take them off the tourist trail. Tours allow patrons to discover the city's quiet neighborhood city parks, streets and packed beaches of the North Side of Chicago.
Bobby's Bike Hike, Chicago's best bike tour company, provide tours of the Old Town District and the amazing Chicago Lakefront. They also offer bike tours that cater to people who want a good food trip along with a nice cold glass of beer. What makes Bobby's Bike Hike tours unique is that people will be learning the history behind what makes this city famous while enjoying the sunshine.
IV. Cruises
Study the skyline from afar or mosey up the river ways with cruises like Spirit of Chicago and Odyssey Chicago Cruises that allow people to see the city from another perspective. Unique water experiences abound each summer on these cruises. Aside from satisfying people's curiosity about the Windy City, they also offer gourmet relief with a wide range of delicious multi-course meals and beautiful water views as a backdrop.
A typical cruise on these boats will feature a live dance band on one level with contemporary favorites on another and a solo jazz performer on the third. People can also enjoy moonlight cruises on these boats during the summer that provide the perfect romantic setting to be with their partner or enjoy their night.
For a full list of boat tours in Chicago visit http://www.chicagotraveler.com/boat_tours.htm.
V. Summer Festivals in Chicago
Chicago is a dynamic and vibrant city that is made up of a tapestry of ethnicities and neighborhoods. To some people, nothing celebrates the culture and the beauty of the people that make up each neighborhood like a summertime festival.
One of the summertime festivals that people should not miss is Wicker Park's Green Music Fest from June 21 to June 22. This festival celebrates the neighborhood's cultural origins through great music combined with a close eye toward the environment.
Another summer festival that is worth enjoying is the Do-Division from May 31 to June 1. This annual summer street fest has it all with live music, family entertainment and shopping. Spanning ten city blocks, there is plenty of room to roam and savor the great mix of music.
The Chicago Food Social is another summer festival that people should try. Held from August 23 to August 24, it features hands-on culinary activities along with communal dining for kids and adults and a live music stage to set the scene.
For a full list of festivals coming up with summer visit http://www.chicagotraveler.com/top-festivals-chicago-festival-season-here.
VI. Food Tours
Aside from the summer festivals and local scenery, Chicago is also home to some of the most delicious food in the United States. With food tours, people can learn a bit of Chicago's history along with fun facts about the neighborhood while visiting different tasting stations. This includes everything from the world famous Pizano's Pizza to the city's favorite chocolate maker, Fannie May. Most Chicago food tours are walking tours that run seven days a week and lasts from three to four hours.
VII. Beaches
Amid Chicago's towering skyscrapers, people will find a lakefront view of sandy beaches as far as the eye can see. Each one of these beaches has a unique vibe that helps visitors relax under the sun. One of the best beaches in Chicago is found at Oak Street. Whether it is volleyball, rollerblading, relaxing or soaking up some rays, this is the perfect place to be. It is open from Labor Day to Memorial Day from 9 a.m. to 9:30 p.m.
Another beach that people should visit is Loyola Leone Beach. Considered as Chicago's largest beach, it is a kid-friendly place equipped with stroller beach mats and a play lot. This beach is also great for sports enthusiasts as well. It has a large bike rack, basketball courts and numerous baseball fields. It also has the excellent Heartland Concession Stand for those who want to grab some food before heading to the beach. The Loyola Leone Beach opens from 11 A.M. to 6 P.M.
Evanston Beaches provide the visitor with the best view of the city's skyline. A lot of these beaches enjoy shallow water along with ice cream and gourmet concessions. This makes them an excellent destination for families, and they are open from 11 a.m. to 6 p.m.
North Avenue Beach is Chicago's answer to Venice Beach. It has a running and biking path along with a crunch-fitness gym. It also plays host to everything from the Chicago Water and Air Show to professional volleyball tournaments. This beach is open from 11 a.m. to 7 p.m.
For a full list of beaches in Chicago use http://www.chicagotraveler.com/chicago-beaches.htm.
About Chicago Traveler.com
Chicago is one of the top vacation destinations in the U.S. because of all of the annual events, unique character and popular foods found in the city. ChicagoTraveler.com guides visitors to all the best things to do, top places to dine and deals on the best places to stay in the Windy City.