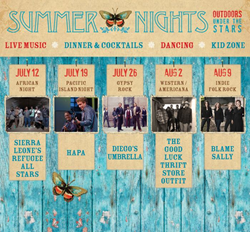 "As harrowing as these personal tales may be, the music buoying them is uplifting." -The New York Times
San Rafael, CA (PRWEB) May 17, 2014
The Kanbar Center for the Performing Arts is thrilled to present Africa's most inspirational band, Sierra Leone's Refugee All Stars to open the Osher Marin JCC's 2014 Summer Nights Outdoor Music Festival.
Founded in a refugee camp near war torn Sierra Leone, Sierra Leone's Refugee All Stars was introduced to the world through the success of the documentary film following the sage of the band through three years of heartfelt performances as they moved from camp to camp, not to mention their instantly appealing music.
From the squalor of refugee camps to the world's biggest stages, Africa's most inspirational band continues to ascend. As one of Africa's most recognized bands with fans across the globe, their music embodies and radiates the joy, passion and love for their fellow man.
The band is a living testament to the resilience of the human spirit and an inspiration to hundreds of thousands of people across the globe. Uplifting and inspirational, this will be the perfect opening concert to kick off the 2014 Summer Nights Series.
The venue begs for picnicking but offers the choice of purchasing delicious and affordable meals.

Sol Food will have a pop up restaurant on site selling Puerto Rican Cuisine.
No alcohol is allowed to be brought in, but is available for purchase.
Seating options including picnic ground, chairs, picnic tables and intimate cabaret seating.
Kids 17 and under are Free. Drawbridge will host the Kid Zone with an art project along side the playground for youngsters.
Georgi & Willow, (the Good Will Store's boutique) pop-up shop will offer festival clothing and add to the full Marin community experience.
Ticket Information
Tickets are available online at http://www.marinjcc.org/summernights or by calling 415.444.8000.
-Subscribe to all 5 – Save & have early access to seating
-Group discounts available.
6:00pm- VIP table & Subscriber Entry
6:15pm- General Admission Entry
6:40pm- African Dance Class
7:00pm- Performance
All performances are over before 10:00pm
The Kanbar Center for the Performing Arts is the Performing Arts Department within the Osher Marin Jewish Community Center in San Rafael, California. All are welcome, no membership is ever required to attend. The Center is a long-standing Marin non-profit, centrally located in Marin County and just ¼ mile east off Hwy 101.
The 2014 SUMMER NIGHTS Series
7/12 –African Music Night:
Sierra Leone's Refugee All Stars – African Dance - Sol Food
7/19 – Pacific Island Night:
HAPA, Hawaiian Dance – Mauna Loa Hawaiian BBQ
7/26 –Gypsy Rock:
Diego's Umbrella – Israeli folk Dancing – Millers East Coast Deli
8/2 – Country Western/Americana:
The Good Luck Thrift Store Outfit – Country Two-Step – Casa Manana
8/9 – Indie Folk Rock:
Blame Sally – Yoga! – Sol Food