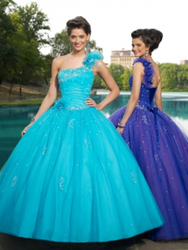 (PRWEB) May 16, 2014
Chilly winter is gone and summer is around the corner. Many girls want to buy trendy Quinceanera dresses at low prices. SweetQuinceaneraDresses is created to help these girls satisfy their desires; many discount Quinceanera dresses are available at this website. The company is a well-known supplier in the dress industry for its elegant designs. Now, young ladies worldwide can find a wide range of Quinceanera dresses at sweetquinceaneradress.com; all these outfits are offered at discounted prices in May 2014.
The modern Quinceanera dresses, including the latest designs in 2014, come in various styles and offered at $100 - $300. Low price does not mean poor quality. We provide our customers with high quality custom Quinceanera dresses only. Behind sweetquinceaneradress.com is an amazing team of dress professionals who are happy to handle any issue for cusotmers. There are more than one hundred styles for you to select.
"We are excited to bring you these affordable discount Quinceanera dresses," says Damon S, the founder of the company, "We pride ourselves in setting high quality dress standards and being budget-friendly in our approach to the overseas markets. We work with innovative dress designers and experienced dress inspectors on new designer Quinceanera dresses. We wish you have a pleasant shopping experience here."
About SweetQuinceaneraDresses
Sweetquinceaneradress.com is a specialty store offering an extensive selection of beautiful Quinceanera dresses and stunning ball gowns. Its designers travel the world to keep up with the latest and hottest Quinceanera trends because they believe their customers deserve only the best products. "We are the real Quinceanera experts that could provide you with the best-looking party dresses for your celebration."
Be sure to know more about the discount Quinceanera dresses here: http://www.sweetquinceaneradress.com/discount-quinceanera-dresses-mc-8.html.