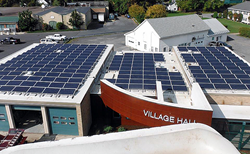 We're thrilled to receive this award for helping bring about the first net-zero municipal building in the state.
Syracuse, NY (PRWEB) May 16, 2014
Syracuse, NY-based mechanical contracting firm TAG Mechanical Systems, Inc., was named an honoree in the Central New York Business Journal's "Time to Build" awards. TAG will receive a Spotlight Award for providing HVAC mechanical systems including a renewable energy 54 kW solar PV system for the Skaneateles Village Hall in Skaneateles, NY.
Two Daikin McQuay SmartSource vertical inverter water source heat pumps provide heating and cooling of the facility as part of a geothermal system, and 220 Aleo solar PV panels on the roof generate approximately 62,000 kilowatt hrs per year of electricity. Electricity not used by the building is placed on the grid.
"We're thrilled to receive this award for helping bring about the first net-zero municipal building in the state," said Ellis Guiles, co-owner and vice president at TAG. "This project is a great model for other municipalities."
Formerly a vacant fire station, the repurposed building now houses village offices and a police station and is designed to produce more energy than it consumes. The project is expected to reduce energy usage by more than 62,000 kilowatt hours of electricity annually and result in the avoidance of 46 metric tons of greenhouse gas emissions annually.
About TAG Mechanical Systems, Inc.
TAG Mechanical Systems, Inc. is a leading Syracuse, NY-based commercial and residential mechanical contracting firm serving construction professionals, architects, building owners, and homeowners. The company provides design-build, construction, installation, and repair of HVAC and renewable energy systems (including solar photovoltaic, geothermal, and micro-combined heat and power) for a diverse range of commercial facilities and single- and multi-family homes.
Founded in 1988, TAG employs more than 75 people and serves more than 15,000 clients throughout Central New York. The company's 32,000-square-foot headquarters in Syracuse includes offices, manufacturing, warehouse and space for vehicle storage and maintenance, servicing a seven-county trading area surrounding the Onondaga County/greater Syracuse region. For more information, visit http://www.TAGMechanical.com or call (315) 463-4455.