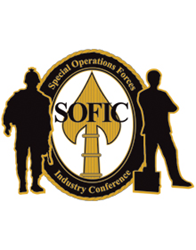 SOFIC has become the premier event for gaining business intelligence related to the SOF marketplace and the 'place to be' for building and renewing business relationships.
Arlington, VA (PRWEB) May 22, 2014
National Defense Industrial Association (NDIA) announced that this year's SOFIC (Special Operations Forces Industry Conference and Exhibition), held from May 20-22 in Tampa, has come to an end after a productive, exciting and successful three days attended by nearly 10,000 participants and highlighted by the theme "Strengthening the Global SOF Network" in presentations, panels, ideas exchanged and connections made.
SOFIC has become the premier event for gaining business intelligence related to the SOF marketplace and the "place to be" for building and renewing business relationships. Through this year's SOFIC, NDIA had the opportunity to bring its industry members to Tampa to display and demonstrate technologies and capabilities designed specifically for SOF Warriors.
"Events like SOFIC allow us to close the distance between the operator, the acquirer, the logistician, the industry provider and our international partners," explained James F. Geurts, Acquisition Executive, USSOCOM. "By getting clearer communication lines and by working together, we all make better decisions and in the end that allows us to get capability to the operator better, faster, cheaper and more effectively. It allows us to clearly communicate our requirements, talk about our acquisition programs to achieve those requirements and get feedback from industry on ideas they have that can help us better support the war fighter," Geurts added.
This year's SOFIC once again served as the central annual forum for USSOCOM Program Executives to update their industry partners on the status of existing programs, articulate evolving capability and technology requirements, and identify areas where even greater emphasis and effort are needed to better equip, train and support special operating forces. Panel presentations and discussions by USSOCOM Component Commanders, Theater SOC Commanders and Senior Enlisted Advisors anchored the agenda and provided industry partners with the 'command view' of the USSOCOM-Industry partnership, as well as with valuable feedback straight from the users on the effectiveness of fielded materiel and equipment.
Program-specific breakouts offered comprehensive reviews of all USSOCOM major programs and gave the opportunity to engage in direct dialogue with Program Executives and Managers. One much-talked-about forum, attended by approximately 180 from the defense industry, was the Senior Industry Executive Forum, a discussion focused on how industry executives can collaborate with USSOCOM leaders to provide Special Operations Forces around the world with the capabilities and support they need.
This discussion was led by:

ADM William H. McRaven, USN, SOCOM Commander
Mr. James Geurts, AE
LTG Joseph Votel, USA, JSOC
RDML Brian Losey, USN, NAVSPECWARCOM
Lt Gen Eric Fiel, USAF, AFSOC
MajGen Mark Clark, USMC, MARSOC
This year's Exhibition Hall was, as always, filled with new technology and enhanced capability offerings, developmental vehicles and other major items, as well as with displays of individual equipment and the ever-present 'gear' required for survival and comfort in tactical or austere environments.
As part of this year's SOFIC, an International Special Operations Exercise highlighted partnerships and interoperable tactical capabilities with Special Forces from 16 nations. Events included an MC-130 military free fall water jump, MH-60 Blackhawk helocast and fastrope insertions, an MH-6 Littlebird sniper team insertion and armed reconnaissance operation, a SEAL underwater infiltration, and Ground Mobility Vehicle and Rigid Hull Inflatable Boat assaults.
Photos from the event can be found on NDIA's Facebook page: http://on.fb.me/1i5xJPa.
Next year's 2015 SOFIC will be held at the Tampa Bay Convention Center, May 19-21, 2015.
About NDIA:
The National Defense Industrial Association (NDIA) is America's leading Defense Industry association promoting national security. NDIA provides a legal and ethical forum for the exchange of information between Industry and Government on National Security issues. NDIA members foster the development of the most innovative and superior equipment, training and support for warfighters and first responders through our divisions, local chapters, affiliated associations and events.