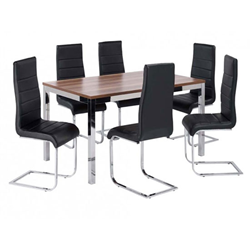 (PRWEB UK) 17 May 2014
The biggest and busiest online furniture retailer, FurnitureInFashion is all set to launch the luxurious and extravagant range of dining table and chairs. Now that FurnitureInFashion has become the market leader with its extensive range of dining room furniture, the customers consider it as a one stop shop for contemporary and modern dining room furniture.
FurnitureInFashion has now launched its exquisite and versatile range of dining room furniture and décor including the accessories like sideboards, wall-mounts and lots more. FurnitureInFashion holds the principle of providing the most excellent service with uncompromising quality. FurnitureInFashion has been offering the most attractive and appealing range of dining tables from traditional oak dining sets to modern stone or glass dining range, the company caters the needs of the customers according to their home interiors and theme. The head and CEO of FurnitureInFashion, Asad Shamim says, "It gives me immense pleasure to announce that we have attained the leading position in the provision of vast dining room furniture range. The reason why we have been able to achieve this accomplishment is the immense confidence that is shown by our clients in all of our products."
"We have always believed in the philosophy of improving our quality with each passing day. Hence, we have continuously incorporated the factors of innovation, diversity and uniqueness in our entire dining room furniture catalogue that looks appealing enough to the customers. In fact, we are determined to add in more variety and excellence in our unique dining room furniture range," said Asad. The company has been offering a wide assortment of dining room furniture including the 4-seater glass dining tables, 4-seater wooden dining table sets, 6-seater glass and wooden dining table sets and even 6 and 8-seater modern stone dining table sets along with extra chair for extra seating in the dining rooms. They also provide sideboards and shelving units of different styles.
The center of attraction for customers has been the modern and contemporary designs of the dining range which comprise of round, rectangle, circle and square dining tables in different materials including glass, stone, wood, walnut, and chrome.
FurnitureInFashion also offers these dining sets in a number of colors like white, black, brown, cream, walnut, ivory and even grey. The amalgamation of different styles of tables and chair gives an ultra modern look to the room setting. Mr. Asad said, "We provide the most innovative designs that stick to the normal contemporary look yet appear to be edgy and modish."
About FurnitureInFashion
FurnitureInFashion is a UK based online retail shop with a manufacturing plant based in Germany. The company directly supplies furniture products from its German based warehouse. It supplies over 7000 furniture products for living room, dining room, bedroom, hallway, bathroom, kitchen, bar and office and much more. For further information and details visit: http://www.furnitureinfashion.net.