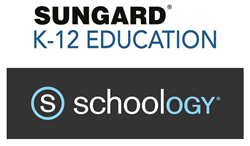 Schoology's integration with SunGard K-12's eSchoolPLUS system provides administrators and educators with a comprehensive time-saving solution for instruction, communication, and information management.
Bethlehem, PA (PRWEB) May 20, 2014
Leading software and technical services provider, SunGard K-12 Education, has selected Schoology as its premier learning management solutions provider. The alliance pairs eSchoolPLUS's award-winning Teacher Access Center with Schoology's award-winning platform for managing instruction, communication, and collaboration. The integration between the two software solutions gives teachers the ability to manage their entire classroom and student learning experience in one tool—from attendance and intervention management to learning resources, online engagement, and virtual classrooms.
SunGard K-12 Education's eSchoolPLUS, an industry-recognized student information system, helps educational stakeholders—students, school administrators, district staff, teachers, parents, and board members—easily manage and immediately access the summary and detailed student information they need, when they need it.
At the heart of eSchoolPLUS is the Teacher Access Center classroom management system. Teacher Access Center helps boost teacher productivity by putting information and processes they need at their fingertips. From their home page, teachers can quickly take attendance, address a discipline issue, and communicate efficiently with students, parents, and school administrators. The software's robust gradebook, which accommodates both standards and non-standards-based grading, helps them manage student grades and identify trends that support student achievement.
Schoology provides a media-rich, collaborative learning environment in which educators can differentiate instruction, individually pace students, and implement group-based learning. The platform's intuitive interface engages students in online discussions, helps improve communication, and provides a means to assess comprehension in real time. Schoology also enables teachers and administrators to assess mastery of state standards and custom learning objectives. Native mobile apps for the iPhone, iPad, or iPod touch; Android device; or Kindle Fire keep students and educators connected and engaged in learning long after class ends.
Joel Hames, SunGard K-12 Education's director of product management, says this alliance will create a seamless integration between the two software systems. "Now when data is recorded, updated, or deleted, those changes flow automatically between the two solutions, saving time and effort associated with manual transfers and helping ensure accuracy of information in both systems," he says.
"Schoology's integration with SunGard K-12's eSchoolPLUS system provides administrators and educators with a comprehensive time-saving solution for instruction, communication, and information management," says Jeremy Friedman, Schoology CEO. "This alliance will help provide an even better experience for both Schoology and SunGard K-12 customers."
About SunGard K-12 Education
SunGard K-12 Education offers software solutions designed to help teachers, administrators, and parents support student achievement. The PLUS 360 products are a single integrated suite of software solutions for the management of student information, assessment and curriculum, special education, and financial and human resources. The suite—which provides district staff with anytime, anywhere access to important district information—can be deployed to work together or implemented as stand-alone systems to help meet educational goals and requirements. For more information, visit SunGard K-12 Education at sungardk12.com.
About SunGard
SunGard is one of the world's leading software and technology services companies, with annual revenue of about $2.8 billion. SunGard provides software and processing solutions for financial services, education, and the public sector. SunGard serves approximately 16,000 customers in more than 70 countries and has more than 13,000 employees. For more information, please visit http://www.sungard.com.
About Schoology
New York City-based Schoology—used by more than four million users in over 50,000 K-12 schools and universities around the world—combines dynamic learning management, an easy-to-use collaborative interface, and next-generation API integration into one innovative solution. Schoology transforms learning into a media-rich interactive experience where students, teachers, parents, and administrators work together to raise student achievement worldwide. Available as a free stand-alone product and as a fee-based integrated enterprise-class solution deployed in schools or across districts, Schoology is user-centric and scalable for any blended learning environment. More information is available at schoology.com or @schoology.
Trademark Information: SunGard, the SunGard logo, PLUS 360, and eSchoolPLUS are trademarks or registered trademarks of SunGard Data Systems Inc. or its subsidiaries in the United States and other countries.
iPad, iPhone, and iPod touch are trademarks of Apple Inc., registered in the U.S. and other countries. App Store is a service mark of Apple Inc. Android is a trademark of Google Inc. Amazon, Kindle, Kindle Fire, the Amazon Kindle logo, and the Kindle Fire logo are trademarks of Amazon.com, Inc., or its affiliates.
All other trade names are trademarks or registered trademarks of their respective holders.
© SunGard K-12 Education 2014. All rights reserved.