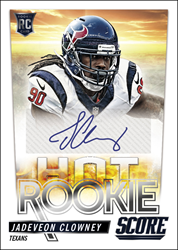 Irving, TX (PRWEB) May 16, 2014
Panini America (http://www.paniniamerica.net), the world's largest sports and entertainment collectibles company, announced today that it has signed former South Carolina defensive end Jadeveon Clowney, the first player taken by the Houston Texans in the 2014 NFL Draft, to a trading card and autograph agreement for the 2014 season that will include Clowney's first NFL/NFLPA licensed Rookie Cards and autographed trading cards.
Clowney is among several key players expected to spearhead one of the most exciting NFL rookie classes in many years. His first NFL Rookie Cards and autographed cards will arrive in the June release of Panini America's 2014 Score Football.
In one of his first engagements with Panini following his signing of the agreement for autographed trading cards, Clowney will also participate in the 2014 NFLPA Rookie Premiere, hosted by NFL Players Inc., in Los Angeles, Calif., from May 28 to June 1. The NFLPA Rookie Premiere is an event where 40 members of the 2014 Draft Class will interact with NFLPI partners and participate in photo shoots, including one for their first Officially Licensed Panini NFL/NFLPA trading cards.
"It's rare for a defensive player to generate so much excitement and capture so much interest from trading card collectors; the fact that Clowney has illustrates just how dynamic and talented he really is," said Panini America CEO Mark Warsop. "His presence – on both Rookie Cards and autographed trading cards – in our complete line of 2014 NFL trading card products is just one more reason we're so optimistic about the immediate and long-term future of our NFL business."
As a sophomore at South Carolina in 2012, Clowney established school records for sacks (13) and tackles for loss (23.5) in a single season en route to earning SEC Defensive Player of the Year honors. His seismic, helmet-jarring hit on Michigan running back Vincent Smith during the 2013 Outback Bowl made him an instant sensation. His off-the-charts performance at February's 2014 NFL Combine made him an instant top-five pick.
All Panini America NFL player trading card agreements are done in conjunction with NFL Players Inc., the licensing and marketing subsidiary of the NFL Players Association (NFLPA).
Panini America is the only company in the world that manufactures licensed trading cards and stickers for the NBA, NFL, NFLPA, NHL, NHLPA, MLBPA and FIFA World Cup. The company also has exclusive relationships with USA Baseball, USA Basketball and the U.S. Soccer Women's National Team. In addition Panini also has relationships with the Naismith Memorial Basketball Hall of Fame, The Pro Football Hall of Fame and the National Baseball Hall of Fame and owns exclusive entertainment licenses with Disney, One Direction and Michael Jackson, and more than 600 global licenses with other sports and entertainment properties.
ABOUT PANINI:
The Panini Group, established almost 50 years ago in Modena, Italy, has subsidiaries throughout Europe, Latin America and the United States. Panini is the world leader in officially licensed collectibles and is the most significant publisher of collectibles in the U.S., with official licenses for MLBPA, NBA, NFL, NHL, FIFA, USA Baseball, Disney, Nickelodeon, Warner Bros. and other key properties from many other licensors. Panini has distribution channels in more than 100 countries and employs a staff of over 800. For more information visit us at http://www.paniniamerica.net, http://www.paninigroup.com or http://www.paniniamerica.wordpress.com. You can also follow Panini America on social media platforms Facebook, Twitter and on YouTube.
ABOUT NFL PLAYERS INC.:
NFL Players Inc. is the licensing and marketing subsidiary of the NFL Players Association. NFLPI has been a trusted resource since 1994, delivering access to the influence, power and personal stories of NFL players. NFLPI is a "one-stop shop" for businesses seeking licensing rights, access to players through hospitality and events, marketing strategy and player procurement. For more information, please visit nflplayers.com.