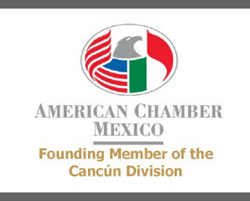 "We are ecstatic to be recognized by the most trusted organization in Latin America," says Steve Didier, Chief Marketing Officer at American Realty.
Playa del Carmen, Mexico (PRWEB) May 19, 2014
American Realty, the most trusted name in Real Estate in the Riviera Maya and Playa del Carmen, has recently been recognized for its honest business practices by being named a Founding Member of the American Chamber of Commerce Mexico Cancun Chapter.
Founded more than 90 years ago in an effort to bring heightened transparency to parts of the world that might not be a common practice, the American Chamber/Mexico is a non-profit and non-partisan organization. It is affiliated with the two most active and significant international business organizations in the world: the United States Chamber of Commerce and the Association of American Chambers of Commerce in Latin America (AACCLA).
Companies comprising American Chamber/Mexico represented nearly 70% of the foreign direct investment in Mexico in 2012, contributing to economic and trade development and strengthening the economic relationship between Mexico and the United States.
Until recently, the American Chamber/Mexico only existed in the three largest cities in the country, Mexico City, Monterrey and Guadalajara. But with the recent expansion to Cancun, the strict membership requirements and background checks have been expanded to the businesses in this area. Few will meet the strict requirements that the American Chamber/Mexico demands. Fewer still will be named founding members. At the core of the requirements are the organization's values. They include:

Ethics: The heart of actions.
Respect: Honor each individual.
Sense of Urgency: Making things happen.
Positive attitude: Live enthusiastically.
Commitment: Towards members and stakeholders.
Free Enterprise: Fewer restrictions, more competition.
Rule of Law: A sine qua non principle for a sound economy and relationships.
Social Responsibility: Care for and support our community.
"We are ecstatic to be recognized by the most trusted organization in Latin America," says Steve Didier, CMO at American Realty. "When your number one priority is to do clean, honest business transactions, it is great when those who value the same things make note of it. We not only plan to be a member of the American Chamber/Mexico, but we hope to take an active role in shaping the direction of the organization to making the entire area more transparent and socially responsible."
Click for more information on the American Chamber/Mexico.
Click for information on why buyer should use a competent real estate broker in Mexico to protect their purchase.