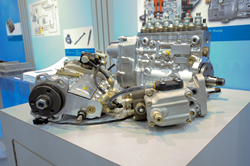 The 2014 event will feature a theme of "Engineering Leadership – Changing, Guiding, Influencing."
Warrendale, PA (PRWEB) May 19, 2014
SAE International announces the line-up of executive panels for the SAE 2014 Commercial Vehicle Engineering Congress, which will be held Oct. 7-9 in Rosemont, Ill.
The panels will include:

Blue Ribbon Panel: Engineers as Leaders
The commercial vehicle competitive landscape has become more complex, unpredictable and volatile. With the growing need for collaboration that crosses both business and geographic boundaries, the emerging challenge is to develop leadership skill sets within businesses. This panel will address challenges of engineering in a global environment; developing leadership talent in an engineering organization; transitioning from engineering to business leadership roles; engineers as leaders in technical, organizational, commercial and strategic capacities; and leadership training and development from the higher education perspective.

This executive panel will discuss the origins of "From Road to Lab to Math", provide examples of how this approach has expedited their development schedules, increased product reliability and lowered development costs. Additionally, the panel will discuss the reverse paradigm "From Road to Lab to Math and Back Again" - how to capture and analyze data from the road and field, to improve the math of their product development.
Efficiently Engineering for Global Markets - Meeting the Emerging Market Product Challenge
Global companies must meet the latest legislation and customer demands for the mature markets, yet to compete in emerging markets, they must also have highly cost efficient products that precisely meet the unique needs of the these customers. Can this be done with global products, or global platforms with localized variants or are unique solutions required? How do these approaches align with manufacturing localization strategies? This panel will address different possible solutions to this challenge.
The 2014 event will feature a theme of "Engineering Leadership – Changing, Guiding, Influencing." The mission of the conference is to be the conference of choice for the sharing of technical knowledge and networking for the global on-road and off-road Commercial Vehicle Industry.
Ken Davis, President, Vehicle Group, EATON, will serve as Executive Chair for the three-day congress.
For more information about the SAE 2014 Commercial Vehicle Engineering Congress, visit http://www.sae.org/events/cve/. To request press credentials, call 1-724-772-8522 or email pr (at) sae (dot) org.
SAE International is a global association committed to being the ultimate knowledge source for the engineering profession. By uniting over 145,000 engineers and technical experts, we drive knowledge and expertise across a broad spectrum of industries. We act on two priorities: encouraging a lifetime of learning for mobility engineering professionals and setting the standards for industry engineering. We strive for a better world through the work of our philanthropic SAE Foundation, including programs like A World in Motion® and the Collegiate Design Series™.