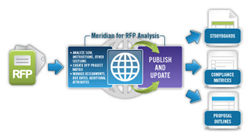 Not only do our clients save time, but they also improve their quality processes as well. With Meridian's sophisticated reporting capabilities, our clients are able to continuously check compliance with all RFP requirements
Manchester, New Hampshire, USA (PRWEB) May 21, 2014
XRSolutions, LLC, a supplier of unique proposal analysis, management, and collaboration solutions, today announced plans to exhibit at the APMP (Association of Proposal Management Professionals) Bid and Proposal Con 2014.
Lisa Payne, Co-Founder and President, said today, "We are always excited about attending the annual APMP International Conference. It gives us an opportunity to listen to the challenges these dedicated professionals face, and to demonstrate how our Meridian Series converts their challenges into greater team efficiency and productivity." She continues, "Successfully preparing a compliant proposal in response to a complex solicitation is not an easy task. Meridian for RFP Analysis 2014 saves a significant amount of time when creating critical proposal tools such as compliance matrices, outlines, and author worksheets."
"One of our most important business objectives for the conference is to demonstrate the new and improved interface of Meridian for RFP Analysis 2014," adds Al Johnson, Co-Founder and CSA. "This release is very intuitive and significantly streamlines the complex tasks of RFP analysis. Not only do our clients save time, but they also improve their quality processes as well. With Meridian's sophisticated reporting capabilities, our clients are able to continuously check compliance with all RFP requirements." he states.
APMP 2014 will not be all work and no play. Although writing proposals is a very serious and stressful job, these professionals know how to have fun too. Payne said, "In the spirit of having a good time, XRSolutions is giving away a SoundLink® Bluetooth® speaker III at the booth. Stop by to ask the XRSolutions team to play YOUR favorite song and enter the drawing!"
About XRSolutions
XRSolutions, LLC is the premier supplier of The Meridian Series, a proposal software solution designed specifically for those responding to federal, state and local RFPs. Our customers include eight of the Top Ten defense contractors, engineering firms, and telecommunications and solution providers and tenfold more 8(a)'s.
The Meridian Series streamlines the process of managing the resources and information required to develop complex business proposals. Services include training, business process improvement consulting, and Microsoft solutions deployment. A trial version of Meridian for RFP Analysis is available: http://xrsolutions.com/products/downloads/MeridianDemo.htm