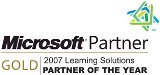 This important webinar provides experienced information technology professionals with an overview of how the audit feature within SQL Server 2012 can be used to increase IT efficiency and improve IT security.
NewYork City, NY (PRWEB) May 21, 2014
NetCom Learning invites information technology professionals with level 200-300 experience in SQL to join Microsoft Premier Field Engineer, Timothy McAliley, for a free interactive webinar on SQL Server 2012 audit feature. The webinar will feature lots of demos on the use and capabilities of the auditing feature within SQL Server 2012. This webinar takes place Wednesday, May 28, 2014 from 1:00 PM to 2:00 PM EST. Information will also be provided on how to achieve the MCSA and MCSE SQL Server certifications. SQL Server 2012 is a Microsoft relational database management system.
"This important webinar provides experienced information technology professionals with an overview of how the audit feature within SQL Server 2012 can be used to increase IT efficiency and improve IT security," said Russell Sarder, CEO of NetCom Learning.
SQL Server is primarily used to be a data repository and to provide data as needed for software applications on local networks and the Internet. The audit feature within SQL Server 2012 allows for the tracking and logging of events within the database. Server audits can be created based on organizational standards and needs.
In this session, we will cover:
Overview of Server and Database auditing capabilities of SQL Server 2012.
Configuring, maintaining and troubleshooting SQL Server 2012 Audit for server and database events
Demo will be run on a Windows Azure Virtual Machine running Windows Server 2012 R2 and SQL Server 2012
MCSA & MCSE SQL Server Certification Roadmap
Q&A with Timothy
Featured speaker
Timothy McAliley will be the presenter for the interactive webinar. Tim is a Microsoft Premier Field Engineer for SQL Server in Washington, DC. In that function he supports customers in planning, deploying, operating and troubleshooting SQL Server solutions. He is also a Certified Technical Trainer (CTT), a Microsoft Certified Trainer (MCT), and holds a variety of additional certifications including PMP, CISA, CISM, CISSP, ITIL V3 Foundations, MCTS, MCITP, SQL Server 2005/2008, Exchange 2010, and SharePoint 2010. MCAliley's past experience includes working as a Database Administrator for a Business Intelligence Team, and an Enterprise Security Group Technical Trainer for Symantec specializing in IT operations including auditing, audit frameworks, service management, information security, project management, and database/application tier high availability solutions. Tim is an experienced speaker, particularly at information technology user group events on the east coast.
Register Now for the free webinar SQL Server 2012 Audit Feature.
Benefits of taking technical training with NetCom Learning
NetCom Learning is the most trusted name in both business and IT training and offers top notch instructors with an average of 16 years of experience and vendor approved coursework offering certification preparation for a variety of vendor certifications. NetCom Learning instructors routinely achieve high ratings from their students and possess an average of 20.5 years of experience and a cumulative average of more than 10,500 years' experience in the field of their expertise. Instructors carry an average instructor evaluation of 8.6 out of 9, one of the highest instructor evaluations in the industry. The high quality of training has resulted in over 2,150 testimonials and a 96% customer satisfaction rate with those customers indicating they would recommend NetCom Learning to others.
For more information on current NetCom Learning at the Princeton, New Jersey location call 1 888-563-8266 or visit http://www.netcomlearning.com.
About NetCom Learning
NetCom Learning is an innovative leader in IT, business and executive training to companies, individuals, and government agencies. Since its inception in 1998, NetCom Learning has trained over 71 percent of the Fortune 100, serviced over 50,000 business customers, and advanced the skills of more than 81,000 professionals through hands-on, expert-led training, with the organization maintaining an average instructor evaluation score of 8.6 out of 9. NetCom Learning was recognized by Microsoft Corporation as its Worldwide Training Partner of the Year and named thrice to Inc. Magazine's list of fastest growing private companies in America. The organization was also recently named to the 2012 Top 20 IT Training Companies by TrainingIndustry.com and was named "Company of the Year" by the American Business Awards.
Like us on Facebook: https://www.facebook.com/netcomlearning.
Follow us on LinkedIn: http://www.linkedin.com/company/netcom-learning
The purpose of NetCom Learning is to promote the values of lifelong learning.