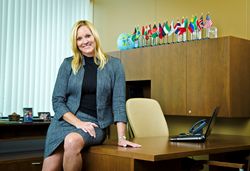 We cannot rest until all women have opportunities for education, do not need to fear violence and are not used or abused by the men around them." Lori Blaker
Rochester Hills, MI (PRWEB) May 20, 2014
Lori Blaker, President/CEO of TTi Global received the AWC-Detroit Chapter's Diamond Award at this year's Matrix Awards ceremony held at the Dearborn Inn in Dearborn, Michigan. This award honors an individual or organization for improving conditions for women in the workplace or portraying women positively in the media. Blaker was selected for this award for her active involvement with women's advocacy. Specifically Blaker was being honored for her mentoring activities with Women of Tomorrow and most recently for her role in launching the Metro Detroit Chapter of US National Committee for UN Women.
According to the organization, women are chosen not only for what they have done in their work and careers, but also what they have done in the community. As role models, they are an inspiration to all women who are trying to change the world for the better. Blaker joins a distinguished list of highly accomplished women. Past Matrix winners from other chapters include Meryl Streep, Tina Fey, Robin Roberts, Ellen DeGeneres, Martha Stewart, Whoopi Goldberg and Meredith Vieira and most recently, Queen Latifah.
Blaker was delighted to be honored at this event stating her reasons for starting the chapter, "We have established the Metro Detroit Chapter of the US National Committee for UN Women to advocate and educate. I ask all of us to do more, say more and to be heard. We cannot rest until all women have opportunities for education, do not need to fear violence and are not used or abused by the men around them." Blaker then thanked the Association of Women in Communication saying, " This is a strong association of women extremely capable and able to communicate on behalf of women. I am so honored to be recognized by you!"
Other women receiving honors at this year's event include Lillie Guyer, author and news reporter who won the Headliner Award and Sue Mosey of Midtown Detroit who received the Vanguard Award. Anne Doyle of Anne Doyle Strategies was the evening's keynote speaker.
Lori Blaker is an award-winning international business leader. As the head of one of the fastest growing women-led organizations in North America, her leadership skills continue to be lauded by the business community. President/CEO Lori Blaker received numerous business and community awards and recognitions. Under her leadership, TTi Global has ranked consistently among the "Top 25 Woman-Run Businesses in the USA" as recognized by the Women's Business Enterprise National Council.
#####
TTi Global provides staffing, learning, research and consulting solutions to industries across various sectors with automotive as a core focus. TTi Global oversees operations on five continents with offices spanning the globe, which include Australia, Brazil, Canada, Chile, China, India, Japan, Mexico, Peru, South Africa, Thailand, Venezuela, UK and most recently Afghanistan.
With a staff of over 2000 employees in international operations, they offer a wide range of services, tailor made to drive business goals, including business consulting, research, staffing, workforce development and learning solutions. TTi Global world headquarters are located in Rochester Hills, Michigan.