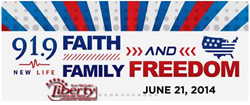 Come celebrate Faith Family and Friends with your friends at Liberty Buick GMC!
(PRWEB) May 21, 2014
Liberty Buick GMC is once again partnering with 91.9 New Life radio station in Charlotte, NC for their annual Faith, Family and Freedom Concert. This spectacular fundraiser lights up the skies with a breathtaking fireworks display. This is the ninth year that Liberty Buick GMC has been a sponsored of this community event.
The Concert will be held at the Charlotte Motor Speedway's ZMAX Dragway on Saturday, June 21, 2014. Doors open at 4:00 p.m. The concert will go from 6:00 – 9:00 p.m.
"This is a great event to kick off the summer and celebrate faith, family and friends on a beautiful summer evening," says Scott McCorkle, owner of Liberty Buick GMC. "It brings together the powerful messages in Christian music, and the opportunity to take care of our own through the support of a local charity."
With over 15,000 people expected to attend this year's event, the New Life 91.9 Faith, Family and Freedom Concert will host some of the best bands and singers in Christian Rock today. Attendees will enjoy Britt Nicole, Matthew West, Hawk Nelson and For King & Country returning for an encore performance. Joe Gibbs, former American football coach, NASCAR Championship team owner, and two time NHRA owner, will be this year's special guest speaker.
Every year New Life 91.9 radio station picks a charity for all attendees to donate. This year's charity is in support of Samaritan's Feet, a local organization committed to sharing hope with children in the U.S. and around the world by giving them a pair of shoes. All ticket holders are asked to bring a new pair of children's athletic shoes in sizes 10-4 (closed toe shoes only) and white crew socks. The goal is to fill that truck for children.
Purchase tickets either online at http://www.ticketmaster.com/event/0E004C582C13812C?brand=cms&camefrom=CFC_CMS_newlife or at a New Life ticket stop. Ticket prices range from $5 to $50 per seat.
A dazzling fireworks show sponsored by Liberty Buick GMC will bring the evening to a close. No alcohol will be allowed at the concert. For more information about New Life 91.1 concert and fundraiser, click here: Faith, Family and Freedom concert.