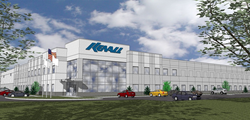 We are excited to move as soon as possible, so we can begin adding new jobs to Kenosha and the surrounding area, including recruitment from neighboring Gateway Technical College. - Jim Hawkins, CEO
Gurnee, IL (PRWEB) May 23, 2014
Kenall Manufacturing begins a new chapter in its history with a formal groundbreaking ceremony for a state-of-the-art facility in Kenosha, WI.
Located just East of I-94 at Highway 158, the 354,000-square-foot manufacturing facility - designed by Partners in Design Architects and under construction with Alston Construction - will include state-of-the-art machinery and equipment for fabrication, finishing, and assembly, a certified UL testing facility, an interactive showroom, and a dedicated training center.
The building design incorporates Kenall LED lighting in order to reduce its carbon footprint, supporting Kenall's ongoing commitment to the economic and sustainable benefits of solid state lighting. When combined with controls, Kenall's LED luminaires provide enhanced energy savings. With a focus on energy, resource conservation, and the reduction of hazardous waste, Kenall's LED lighting products are energy efficient and environmentally responsible.
Sustainable features of the new facility include:

Water-efficient, low-flush toilets and sensor faucets
Glass-exposed offices that incorporate daylight harvesting
The use of Kenall lighting control systems for enhanced energy efficiency
The harvesting of heat from the paint line infrared ovens to other areas of the manufacturing space in the winter
Sustainable landscaping
Looking toward the future, 13 acres adjacent to the building are included for potential expansion. The additional space will allow Kenall the ability to remain responsive to customer needs and support strategic growth, while also creating new employment opportunities.
"We look forward to our vision becoming a reality as we watch the new facility take shape. We are excited to move as soon as possible, so we can begin adding new jobs to Kenosha and the surrounding area, including recruitment from neighboring Gateway Technical College. We anticipate occupancy toward the end of the year," said Jim Hawkins, Chief Executive Officer of Kenall.
Taking part in the groundbreaking with Kenall executives were Wisconsin Governor Scott Walker, Kenosha Mayor Keith Bosman, and Kenosha County Executive Jim Kreuser, along with other dignitaries and community representatives.
*****
About Kenall Manufacturing
Founded in 1963 by Ken Hawkins, Kenall Manufacturing carved a niche within the lighting industry by creating the first impact and vandal-resistant lighting products. Kenall produces and supports high-quality and durable lighting solutions for the most challenging environments; providing sealed enclosures for food processing, containment, and specialized healthcare applications and high-abuse/rough service lighting for transportation applications and security lighting for detention facilities. Kenall products are manufactured in the USA and meet the guidelines established under the Buy American Act and the North American Free Trade Agreement. For additional information, visit http://www.kenall.com.
#####
*Video footage and still photographs of today's event are available at http://www.skiesfall.com/kenall or contact Ben Kasica at (262) 456-4027.