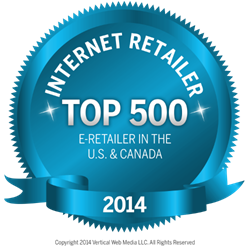 By increasingly focusing on an integrated web, mobile and store experience, we're meeting customers whenever and wherever they are.
Los Angeles, California (PRWEB) May 21, 2014
Leading online lighting retailer LampsPlus.com announces that it has been named a "Top 10 Housewares and Home Furnishings E-Retailer" in the annual Top 500 Guide by Internet Retailer Magazine. Ranked ninth among housewares retailers and 189th overall among e-retailers for 2014, Lamps Plus continues to solidify its standing as one of the nation's leading home furnishings and lighting retailers. The company has been in the top 200 every year the list has been published.
This definitive ranking and analysis names the largest 500 e-retailers in the United States and Canada, based on annual 2013 Internet sales, as researched by the Internet Retailer staff. In an overview of the 2014 guide, the publication claims that "web merchants ranked in the Internet Retailer Top 500 Guide increased online sales by $31.91 billion in 2013 over 2012." Internet Retailer attributes much of that growth to brick-and-mortar retailers leveraging the power of omni-channel marketing across their store locations and websites.
Angela Hsu, Vice President of Internet Business and Marketing at Lamps Plus, corroborates the omni-channel claim as it relates to the company's success. "By increasingly focusing on an integrated web, mobile and store experience, we're meeting customers whenever and wherever they are—at home, in store and on-the-go. We expect to see continued growth in the coming year, spurred on in particular by innovations and consumer interest in LED home lighting and the Color+Plus custom lighting segments of our business."
As e-retailers nationwide continue to look for new ways to reach customers – from more intuitive product recommendations to laser focused marketing – Lamps Plus still sees customer service as the primary driver of its growth. "With all of the developments we implement daily, we are, above all, a customer service company," explains Dennis Swanson, CEO and Owner of Lamps Plus. "From a rich user experience online to the American Lighting Association accredited staff available at every store location and by phone, we're here to help customers navigate the world of home lighting and decorating with ease."
About Lamps Plus
For more than 30 years, Lamps Plus has been synonymous with excellence in the retail lighting industry. Established in 1976, Lamps Plus is the nation's largest specialty lighting store, with more than 40 superstores throughout the western United States. LampsPlus.com has been named a 2014 Top 10 Housewares/Home Furnishings e-retailer and a 2013 "Hot 100" world's best retail website by Internet Retailer Magazine. Together with its retail locations, the company serves customers nationwide with the largest selection of functional and decorative lighting fixtures, accessories, furniture and home decor. This selection includes hundreds of products, ranging from traditional chandeliers to the latest in home decor, available exclusively from Lamps Plus. The company also holds several patents for innovative lighting. Services offered include in-home lighting consultations, in-store workshops and installation from expert, licensed electricians. American Lighting Association certified designers are available to offer product recommendations and advice in all our stores, by phone or online at LampsPlus.com. The Lamps Plus family of websites also includes 55 Downing Street, Builders Discount Lighting and Lamps Plus Open Box. Visit the official Lamps Plus website at LampsPlus.com.