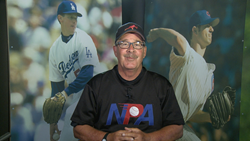 "These days, too many pitchers get injured thus limiting their opportunity to continue playing baseball. Many times the desire to win has superseded what is best for an athlete's development and future potential..." Tom House
(PRWEB) May 21, 2014
Making athletic training resources more accessible for athletes of all levels, Sports Video Partners recently announced a new partnership with Tom House and the National Pitching Association (NPA).
Sports Video Partners is committed to providing best-in-class instructional resources for athletes, families, coaches and instructors. To that end, Sports Video Partners has entered into a partnership with the National Pitching Association as the exclusive online provider of their programs and lectures.
The NPA has spent decades refining their science-based training approach and it has had a significant positive impact on athletes around the world. Their mission, "inform, instruct and inspire" is consistent with Sports Video Partners commitment to provide world class programs and training information to athletes, coaches and families.
Sports Video Partners will be offering the following NPA programs:

Arm Care and Recovery
Pitching Strategies and Tactics
Total Pitcher Performance
"We are thrilled to be working with Coach House and the entire NPA team. They are definitely 'best in class' in terms of taking a science-based approach to training, and their comprehensive philosophy is consistent with our model of serving athletes as the go-to source for programs and information," said Conor McCarthy, co-founder of Sports Video Partners.
"Working with Sports Video Partners is a natural fit for the National Pitching Association as both of our organizations are committed to providing the best and latest information and training techniques to our clients. The Sports Video Partners platform allows us to offer our programs to a broader group of pitchers across the country and around the world," House added.
About The National Pitching Association
The National Pitching Association was formed by leading coaches, athletes and management teams to help pitchers safely develop to their fullest potential. Our goal is to provide pitchers of all levels the opportunity to learn, develop, achieve, and enjoy the game of baseball. For more information, please visit NationalPitching.com.
About Sports Video Partners
Sports Video Partners is the premier provider of web-based solutions for the serious-minded athlete. Sports Video Partners provides the youth sports market with instructional expertise and training systems used by professional athletes and video capture and analysis tools for members. For more information, please visit SportsVideoPartners.com.