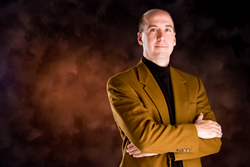 Expect technology to continue to move from the large corporate farms to even the smallest of family farms and, in the process, transform agriculture as we know it.
San Diego, CA (PRWEB) May 21, 2014
"We'll feed the imagination, so you can feed the world." Such is the battle cry of the Produce Marketing Association's (PMA) 2014 Symposium, and their first keynote speaker, futurist Jack Uldrich will help tap audience members' imaginations with his notion of "unlearning."
One of the highlights of the symposium will be the PMA's "Learning Lounge" where the focus will be on offering cutting-edge technologies including: Cloud-based BI (business intelligence) platforms that use data modeling to increase productivity and decrease costs, automated pathogen detection that provides incredible accuracy in food safety testing, as well as tracking systems that follow produce from field to shelf.
The seeming paradox between the Learning Lounge and Uldrich's keynote on unlearning are actually two sides of the same coin--Uldrich sees his work as preparing audiences for the future by teaching them to unlearn old habits that inhibit them from embracing the amazing technology and trends that are coming their way.
Using colorful analogies and powerful stories, Uldrich makes a thought provoking and powerful case for "unlearning." For example, in one of his blogs on his School of Unlearning website, Uldrich sites the example of the old Viceroy cigarette advertisement. The tagline is "The man who thinks for himself …"
"The irony," says Uldrich, "is of course, is that marketing executives at Viceroy were telling the "thinking man" how to think." Uldrich goes on to state, "I'm not so presumptuous as to tell you how to think, but it is my opinion that unlearning is a singularly important aspect of learning. In fact, I'd go as far as to say unlearning is learning for the person who thinks for him or herself."
In addition to being an internationally recognized public speaker and scholar, Uldrich is also the founder and "Chief Unlearning Officer" of The School of Unlearning—an international consultancy designed to help organizations succeed tomorrow by unlearning today.
Uldrich is a frequent speaker to agricultural associations such as MosaicAg, UnitedAg, Novozymes, Agricultural Adaptation Council, Land O' Lakes, the California Ag Summit, and AgGateway. (For some of his written on ideas on the future of agriculture, check out Uldrich's article on Urban Agriculture's Tantalizing and Tasty Future. Uldrich also speaks with clients in numerous other areas including the financial sector, healthcare, education, utilities and telecommunications, to name a few.
Parties interested in learning more about him, his books, his daily blog or his speaking availability are encouraged to visit his website. Media wishing to know more about either the event or interviewing Jack as a futurist or trend expert can contact Amy Tomczyk at (651) 343.0660.
Uldrich is a renowned global futurist, best-selling author, editor of the monthly newsletter, The Exponential Executive, and host of the award-winning website, http://www.jumpthecurve.net.