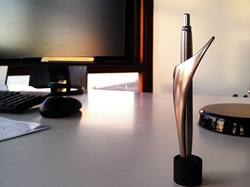 pens and magnets, what's not to love!
(PRWEB) May 21, 2014
In this age of technology, the joy of handwriting can easily be overlooked. Keyboards and printers have digitized and replaced a once distinctly human art form. Now writing tools get lost under papers or tossed into desk drawers, never to be seen or used again. Something must be done! Enter Finesse, a quality writing set that's fun, practical and attractive - literally!
What is it?
The idea was to create an elegant, functional writing set that makes a statement: "use me, don't lose me." With its clean design and magnetic support system, Finesse stands at attention, always ready for action. No need to spend time searching for another writing instrument, Finesse is always right where it should be. Thanks to the structure's magnetic properties, the pen instinctively pops back into the holder where it immediately regains its vertical composure.
Design
The sleek, modern shape of the structure and self-aligning pen appear to defy gravity as they reach for the sky, but how? Magnets! While magnetism probably isn't the solution to all the world's problems (although it would be great), it is the key element behind the Finesse design. Two strategically placed neodymium magnets support and align the pen, while also allowing for an easy release from the structure. Along with the pen, the structure and base are made of high quality stainless steel and come in a range of finishing options. The structure can be plated in nickel, pure silver or 24k gold, and the base comes in polished steel or one of two blacks – matte or glossy. Finally, the structure goes through a professional polishing process to keep it looking nice and classy for years to come.
Ways to support this?
Through Indiegogo, the Finesse team offers a range of support options to help get the writing set out of the design lab and into homes and offices around the world. Each support package comes with special perks and the opportunity to support a unique and innovative venture.
Reason to support this?
Finesse is practical, reliable and looks great in any environment. Its simplicity and functionality makes it suitable for anyone, anywhere, anytime. More importantly, it's also lot of fun, because at the end of the day, who doesn't love magnets!