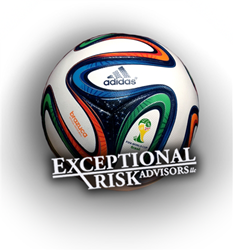 With this new product we have devised a streamlined solution to a problem they may not even know exists, but is in fact a reality.
Mahwah, NJ (PRWEB) May 21, 2014
Exceptional Risk Advisors, a leader in specialized insurance for high-net-worth individuals, has addressed the potential danger looming over the World Cup this June in Brazil with the debut of its "World Cup Coverage," a new and all-encompassing insurance product for travelers heading for the World Cup.
The World Cup kicks off hot on the heels of the 2014 Winter Olympic Games in Sochi, where headlines were occupied with a grave tone for potential "Black Widow" terror events. The question is: will spectators and the media yet again find themselves in an unsettling environment, namely a country rife with kidnappings, political unrest and the seventh-highest homicide rate in the world? The answer is almost most certainly; yes they will.
In the past such coverage was often dictated by the need to purchase up to five separate policies in order to create sufficient protection for executives and high-net-worth travelers. By combining various forms of insurance under a single bound policy and marrying that with security consultation, "World Cup Coverage" offers broad protection coverage which includes:

Pre-trip World Cup Security Briefing
Urgent Security Push Notifications
Kidnap & Ransom
Accidental Death & Dismemberment Coverage
Accidental Disability Insurance
Emergency Evacuation & Repatriation
Medical Accident Expense Reimbursement
Emergency Assistance
"Corporate executives and entrepreneurs are experienced risk takers who aren't easily bothered by anything negative and tend to see themselves as invincible," offers Ted Tafaro, ERA's CEO. "It's not that they throw caution to the wind, but that they believe themselves to be exempt from harm and they're not about to let anything, even the possibility of a kidnapping keep them from attending the World Cup. But their sense of invulnerability just makes them more vulnerable, particularly in a country where kidnapping, murder and mayhem are commonplace. With this new product we have devised a streamlined solution to a problem they may not even know exists, but is in fact a reality."
For more information on "World Cup Coverage," which offers protection in upwards of $5 million, contact Michael Engelhart or Sean McNiff at Exceptional Risk Advisors at 866-512-0444. By partnering with Lloyd's of London syndicates, Exceptional Risk Advisors provides high-limit specialty life, accident and disability products for clients with extraordinary insurance needs, including celebrities, athletes, entertainers, highly-compensated executives and professionals. For more information, visit http://www.exceptionalriskadvisors.com.