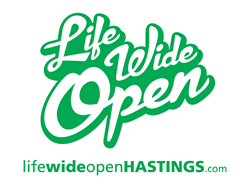 Hastings, NE (PRWEB) May 20, 2014
Hastings' new brand heralds the city's wide array of opportunities for work, leisure, and a high quality lifestyle. "Life Wide Open" will now be used to identify Hastings across a wide variety of uses and media platforms. The brand and visual were unveiled to the public during a Chamber of Commerce Business After Hours event held Tuesday, May 20, at The Lark in downtown Hastings. IdeaBank Marketing, the Hastings-based advertising agency that developed the project, hosted the event.
The Life Wide Open brand is the result of a comprehensive marketing campaign sponsored by the Adams County Convention & Visitors Bureau, City of Hastings, Hastings Economic Development Corporation, Hastings BID & Downtown Center Association, Hastings Chamber of Commerce, and Hastings Utilities. The campaign is designed to showcase Hastings to prospective business and industry owners, visitors, and citizens.
"Hastings is a place where dollars reach further, families feel connected, and ideas can grow," said Kaleena Fong, Executive Director of the Adams County Convention & Visitors Bureau, and key organizer of the initiative. "'Life Wide Open' perfectly describes the opportunities we have available to us, the way we think outside the box, and our welcoming business community."
At the center of the campaign is a fun, simple, and timeless logo that will reinforce the brand across a variety of media outlets. The campaign also includes newly designed and mobile-friendly websites for each of the six supporting civic entities, making it easy to find information about life in Hastings. A universal portal site, lifewideopenhastings.com, provides a uniform look while further boosting access to information on multiple topics. The campaign also includes billboards, newspaper ads, TV spots, and a Facebook photo contest.
"Working with so many Hastings organizations to craft a three-word message was a major undertaking," said Sherma Jones, Vice President of IdeaBank Marketing. "But their collaborative spirit kept the project moving along. Creating their websites was also invaluable in discovering the common thread that would be meaningful for residents, visitors, and business owners alike."
Hastings businesses are encouraged to incorporate the brand into their own correspondence, events, and campaigns. Downloadable visuals are available by clicking the "Brand Assets" link in the footer of the lifewideopenhastings.com portal page.
# # #
Please note: Print and broadcast-ready visuals are available to the press at lifewideopenhastings.com/media.