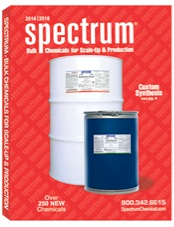 Spectrum is truly a unique company. Our Bulk Chemicals represent one of many strengths that sets us apart from our competition and complements our comprehensive list of chemicals and laboratory products. says Dr. Prem Jain, President and CEO
Gardena, CA (PRWEB) May 23, 2014
With 554 pages, it features over 250 new chemicals along with the 3,500+ Bulk Chemicals already listed plus Liquid Handling & Dispensing Equipment.
Inside, you will find USP Grade Active Pharmaceutical Ingredients, Excipient Chemicals, US DEA Controlled Substances, Cosmetic Ingredients, Food Grade Chemicals and Dietary Supplements. Custom Synthesis and Contract Services are also featured.
Spectrum, established in 1971, is one of the world's largest and most comprehensive sources of APIs, DEA Controlled Substances (Schedules II-V) and multi-compendial chemicals. Spectrum's US-based facilities are ISO 9001:2008 certified, FDA registered and inspected, and operate under current Good Manufacturing Practices (cGMP).
To request your copy, contact us at 800-772-8786 or go to http://www.SpectrumChemical.com/Request-Catalog.
About Spectrum Chemical Mfg. Corp.
Spectrum has over 40 years of experience in manufacturing and supplying fine chemicals, equipment and supplies for laboratory, research, quality control and production in the drug, chemical, cosmetic and allied products industries. Spectrum offers over 200,000 laboratory supply and equipment items from over 250 manufacturers, over 45,000 chemicals including over 23,500 organic chemicals and 1,200 USP/NF/FCC chemicals.