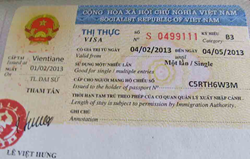 (PRWEB) May 21, 2014
Vietnamvisa.org is one of the most reliable sites for booking visas online. The site has been operated by Smile Travel Vietnam Company since 2008. To answer frequently asked questions about the 6 month visa in Vietnam, Vietnamvisa.org has delivered an official announcement about issuing this type of visa.
Most visitors wish to spend their business trip in Vietnam as long as possible to save flight cost. As a result, a 6 month visa in Vietnam is considered to be the best choice for them. But according to the newly updated information from the Vietnam Immigration Department, the 6-month visa (single/multiple) has not been issued anymore.
The Decision was announced on August 24, 2009. Vietnam Immigration only issues 3-month visas (single/multiple) as the longest one. Thus, instead of applying for a 6-month visa, customers should apply for a 3-month visa. Visitors only need to access their website at https://vietnamvisa.org/secure/ and select the 3 month (single/multiple) visa in the online application form.
The total fee is 29 USD and 40 USD for a 3 month visa single and for a multiple one respectively. The applicant should be informed that they would be required to pay a stamping fee on arrival at the airport by Vietnamese Customers. Furthermore, passports must be valid at least 6 months from the entry date.
Any questions about this can be sent to: sales(at)vietnamvisa(dot)org or contact: +84 988 580 614
About Smile Travel Vietnam:
Smile Travel Vietnam Company is a popular travel firm for both international and domestic customers. The company has had good feedback from world-wide travelers for its professional serving manner and high-quality overhaul. The company aims at 4 main services: hotel booking, tours, visa on arrival and airfare.