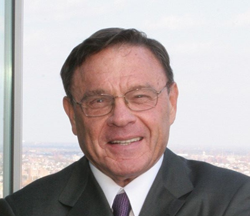 "Bucknell is a great university. The faculty and staff here are phenomenal and we have the most spectacular campus in the world," Graham said. "All of those factors really make you want to give back."
LEWISBURG, Pa. (PRWEB) May 21, 2014
More than 50 years after graduating from Bucknell University, Trustee Emeritus Bill Graham '62 is still inspired by his undergraduate experience, a big part of which was being co-captain of the undefeated 1961-62 wrestling team.
"Wrestling taught me a lot about myself," Graham said. "It helped build my self-esteem, my confidence, my tenacity and determination — a lot of the things that have really helped me to achieve whatever success I have had in my life."
That success has allowed Graham to give back to Bucknell in a myriad of ways. In addition to his nine years of service on the Board of Trustees, it was Graham's gift of approximately $8 million that led to the installation of Graham Field for field hockey and women's lacrosse, the creation of an endowment to support women's varsity sports — primarily women's crew — and allowed the wrestling program to regain varsity status in 2006-07.
Even then, Graham knew he wanted to do more — and now he has. Graham recently pledged another gift in excess of $7 million for a new facility that will serve as both a wrestling center and a campus health and wellness center. The donation includes funding for an operation and maintenance endowment for the building, only the second endowment of its kind at Bucknell.
"Once again we are extremely thankful for Bill Graham's leadership and generosity in support of our men's and women's varsity athletics program," said John Hardt, Bucknell's director of Athletics & Recreation. "Thanks to Bill, the student-athletes in our wrestling program will soon have the opportunity to train in one of the finest facilities in the nation, a facility that we are confident will propel our program to new heights."
Preliminary plans for the Graham Building, which is expected to open in spring 2016, call for a 36,000-square-foot facility to the east of Sojka Pavilion. The Graham Wrestling Center will sit on the second floor and include new locker rooms, practice areas and additional student-centered spaces, including for academic support and athletic training.
The new campus Health and Wellness Center will be located on the Graham Building's first floor, housing services such as Bucknell Student Health, Psychological Services and a campus-wide wellness initiative. It was important for Graham that the facility be one from which the entire campus can benefit.
"This will serve as a resource for the whole Bucknell community," Graham said. "And not just while they're at Bucknell. This can help people develop healthy habits that will stay with them for a lifetime."
With this latest gift, Graham is now Bucknell's second most generous active donor, and plans to continue giving back to Bucknell.
"Bucknell is a great university. The faculty and staff here are phenomenal and we have the most spectacular campus in the world," Graham said. "All of those factors really make you want to give back."
"Bill Graham is among our most passionate and dedicated supporters, and Bucknell owes him a great debt of gratitude," Bucknell President John Bravman said. "These types of transformational gifts benefit not just Bucknellians today, or tomorrow, but for generations to come."
About Bucknell University
Founded in 1846 and located along the banks of the Susquehanna River in historic Lewisburg, Pa., Bucknell University is the largest and one of the most highly ranked liberal arts universities in the country. Students can choose from more than 110 majors and minors in the arts, engineering, humanities, management, and social and natural sciences, as well as extensive global study, service-learning and research opportunities. Bucknell's 3,500 undergraduate and 100 graduate students from across the world enjoy a low 9-to-1 student-faculty ratio and 150 students clubs and organizations plus 27 Division I athletic teams.