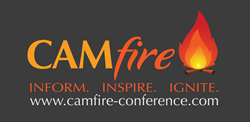 We wanted to create a big tent event that serves the entire Community Management industry.
Gaithersburg, MD (PRWEB) May 21, 2014
TOPS Software, the developer of the industry-leading TOPS Professional Software suite for Condominium and Homeowner's Association Management, announced today that registration is now open for the two CAMfire Conferences in 2014. These brand new conferences offer all the content of a TOPS User Conference plus amazing CAM industry classes.
The CAMfire conferences will include over 30 different classes lead by 20+ industry speakers over two jam-packed days. CAM industry topics to be covered include: contract negotiation, organic business growth, building profitability, managing board meetings, and strategic outsourcing just to name a few.
For TOPS Software users, there will be many resources designed to improve an organizations ROI (return on investment) using TOPS. Hands on workshops with the TOPS team will run throughout the event. TOPS will also offer attendees a peek into future development of TOPS' products. For attendees wanting to get more out of TOPS, there will be two full days of classes designed for users to maximize their use of TOPS.
"We wanted to create a big tent event that serves the entire Community Management industry. So no matter if you're a long time TOPS user, a new TOPS user, or a CAM Professional, the CAMfire Conference will be the best two-day CAM event you can attend in 2014," said Mike Hardy, President of TOPS Software.
The 2014 CAMfire Conferences will be held in the following cities:
St. Petersburg, FL – August 7-8
Las Vegas, NV – September 25-26
"The CAMfire Conference will deliver all the great content that we've offered at TOPS user conferences in the past, plus multiple featured keynote speakers, industry topic discussions lead by thought leaders, and executive level content. Our goal is an event that brings TOPS users and CAM professionals together to INFORM attendees about CAM industry trends, INSPIRE them to be a positive force, and IGNITE in them a passion to serve."
Additional information about the CAMfire Conference is available online at http://www.camfire-conference.com.