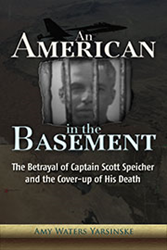 (PRWEB) May 22, 2014
TrineDay book wins award
The TrineDay Spring 2013 book release, An American in the Basement: The Betrayal of Captain Scott Speicher and the Cover-up of His Death by Amy Waters Yarsinske has been named the winner in the general non-fiction category of the 2014 Next Generation Indie Book Awards
The Next Generation Indie Book Awards is the largest Not-for-Profit book awards program for indie authors and independent publishers. In its eighth year of operation, the Next Generation Indie Book Awards was established to recognize and honor the most exceptional independently published books in over 70 different categories, for the year, and is presented by Independent Book Publishing Professionals Group in cooperation with Marilyn Allen of Allen O'Shea Literary Agency.
Amy Waters Yarsinske has authored more than 55 nonfiction books, most of them spotlighting current affairs, the military, history and the environment. But it is Amy's experience and expertise in the military, intelligence and with missing persons that has led to her being informally labeled "the P.O.W. Hunter."
She is a member of the American Society of Journalists and Authors (ASJA), the Authors Guild, Investigative Reporters and Editors (IRE), WriterHouse, and the North Carolina Literary and Historical Association. She lives in Virginia.
Amy will pick up her award during reception at the Harvard Club of New York City on Wednesday May 28th.
An American in the Basement tells the ordeal of U.S. Navy Captain Michael Scott "Spike" Speicher, left to die after he was shot down over Iraq on January 17, 1991, is the latest in a chain of betrayals and cover-ups that have cost many an American serviceman his life.
The book documents his shameful abandonment by our government, along with the history of America's prisoners of war and missing in action, dating back to our nation's beginnings, and revealing for the first time information that the American public was never meant to know.
TrineDay is a small independent publisher that specializes in suppressed material. They have been publishing since 2002, and are located in Walterville, Oregon.
Review copies are available upon request:
TrineDay, PO Box 577, Walterville, OR 97478. 1.800.556.2012 / 541 744-0090
http://www.indiebookawards.com/
http://www.amywatersyarsinske.com/
# # #