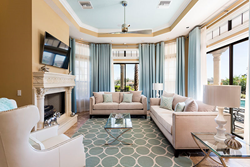 Los Angeles, CA (PRWEB) May 22, 2014
Z Gallerie, a family-owned retailer of stylish home furnishings, art and accessories, announced today the Spring 2014 winner of the Z Gallerie Design Award. Kerry Miller of Florida Furniture Packages received the company's award for her inspired use of color and wide array of Z Gallerie products in her design.
The Designer Trade Program Award recognizes excellence in interior decorating that expresses Z Gallerie's sense of style and sophistication. Award recipients are chosen based on overall project creativity, aesthetic and impact. "I'm still in shock!," said Miller. "There were so many good entries - I'm simply bowled over!"
Miller's winning entry was chosen for its simplicity and serene use of color. She says she uses so much of Z Gallerie's product in her designs because the store offers such a variety of different options from its huge fabric selection, artworks and amazing accessories. "I can never leave empty handed," she said. "There is always something to be found at Z Gallerie." Her absolute favorite item right now is the Nina Bed, but she also loves the Naples Bowls and says they are a great example of how there is always something unique to be found.
Inspired by her mother to become a designer, Miller likes to have a large variety of options in creating spaces for her business. Her client at Reunion Resort in Kissimmee, Florida loved everything she put on the design board but didn't see the final outcome of the complete home remodel until she unveiled it. "He loved everything, especially all the details that I found at Z Gallerie," said Miller.
The Designer Trade Program was created to provide designers with cost effective solutions utilizing Z Gallerie merchandise. With three levels of discounts --gold, platinum and black-- these special to-the-trade discounts give program members increased options for completing their clients' home decorating projects within budget. The company's twice-yearly lookbook, originally created for members of the media, also has become one of the favorite perks of being a Designer Trade Program member.
About Z Gallerie
Founded by siblings Joe Zeiden, Carole Malfatti and Mike Zeiden in 1979, Z Gallerie began as a small poster shop in Sherman Oaks, CA. They operated the store during the day and framed posters at night in their parents' garage. Thirty-three years later, their stores now carry a full assortment of exclusive fashion forward home furnishings, including art and accessories - all at affordable prices. With 58 locations across the United States and an online presence at ZGallerie.com, Z Gallerie, still lead by Joe, Carole and Mike, continues to inspire all those who are excited by interior design. The company is headquartered in Los Angeles and has its buying office in Berkeley.