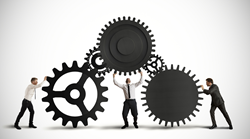 (PRWEB UK) 2 June 2014
London School of Marketing (LSM), a leading institution offering accredited marketing and business qualifications in the heart of London, has released its latest whitepaper titled Engaging Internal Stakeholders for Project Success.
"Achieving a project's objective alone does not translate into success. All stakeholders need to first acknowledge these achievements and declare the project a success," states the free whitepaper, available on the London School of Marketing's official website. "To make sure that all stakeholders are informed and united in their views, a detailed, consistent and audience-oriented communication strategy is required. Although this is well known, it is difficult to achieve."
The paper, written in partnership with BQu Research, addresses the fact that internal communication strategies are often overlooked. This can be due to time and cost implications, but is more often due to the fact that teams are not set up for the express purpose of encouraging internal stakeholder involvement and support. To address this, the paper details the key challenges, opportunities and solutions required to successfully communicate with internal stakeholders.
"The solution [to stakeholder engagement] demands that a clear and compelling message is communicated to all internal stakeholders. It also requires that a simple and frequent dialogue is created between these stakeholders so that they can not only make themselves understood, but understand your message unambiguously."
To download the free whitepaper, visit our website.
London School of Marketing delivers accredited marketing and business qualifications, and offers courses from recognised professional bodies such as CIM, ABP and CAM, BA (Hons) Marketing, MA Marketing and Innovation, and an MBA from Anglia Ruskin University. Based in Central London, it is a QAA approved institution and holds Highly Trusted Status with the UKBA. The school also has offices in Sri Lanka, a network of Local Access Points (LAPs) and online programmes of learning. Courses are run over a broad range of study modes. Further details are available at http://www.londonschoolofmarketing.com.