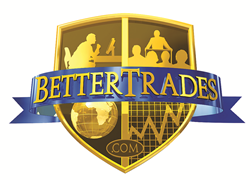 We've shown thousands of beginners, many of them complete novices, how to get started the right way in the stock market.
Cape Coral, FL (PRWEB) June 04, 2014
Better Trades has opened registration for three upcoming Investor's Education Workshops being held in the greater Chicago, Illinois area. The workshops are designed to introduce people to some of the key strategies used by trading pros to make money in the stock market.
The first Investor's Education Workshop will be held in Chicago on Tuesday, June 24 with additional workshops taking place on Wednesday, June 25 and Thursday, June 26. Anyone interested in discovering how to secure their financial future through investing is invited to attend.
Better Trades seeks to empower people with the necessary knowledge and understanding it takes to become a smart, self-directed investor. Clear, practical, and non-intimidating instruction is the hallmark of their educational approach. Their mission is to bring Wall Street to Main Street so investors can harness the power of stock and options trading regardless of where they live.
"The stock market can be a very confusing place, especially for a newcomer," said Bill Corcoran, CEO of BetterTrades. "We've shown thousands of beginners, many of them complete novices, how to get started the right way in the stock market. We are not a brokerage firm nor are we financial advisors. Our goal is not to advise people on how to invest their money or to pick stocks for them. Rather, it is our mission to educate, train, and instruct investors so they can make their own stock market decisions. Our education is all about empowering the individual to take control of their financial future."
Successful stock market investors come from all walks of life. Over the years, Better Trade students have been teachers, homemakers, nurses, doctors, and bus drivers—just to mention a few. Additionally, there is no geographical bias in the stock market. Individuals with Internet access living anywhere in the world can benefit from the opportunity the market presents.
Here are some of the topics that will be discussed at the workshop:

The big mistake that prevents many people from investing successfully
A snapshot of a winning trade strategy and what it reveals
How taking advantage of small stock movements can quickly add up
Why it's possible to trade without sitting behind a computer all day, nervously watching the market's every move
In addition to all the powerful information that will be shared at the event, every attendee will receive a complimentary Fast Track to Financial Freedom CD-ROM loaded with valuable information covering such topics as how to avoid the biggest mistakes even seasoned traders make and the keys to trading in tough times.
Anyone living in the Chicago area with an interest in the stock market and ready to take control of their financial future is invited to attend this informative, free event by visiting the Better Trades website or by calling 844-282-4589.
Additional products and services will be offered for sale.
About Better Trades:
Formed in 1998, BetterTrades brings Wall Street to Main Street. We help self-directed investors learn how it's possible to trade successfully in the stock and options market. BetterTrades' integrated approach provides the knowledge, tools, and professional support to help investors make better trades and achieve financial independence.
BetterTrades' course structure and professional support allow investors to progress at a pace they are comfortable with and one which is compatible with their financial goals and desired trading strategies. They can choose from a variety of interactive learning options, including on location workshops, online classes, DVDs, CDs, and group mentorship with BetterTrades' coaches.