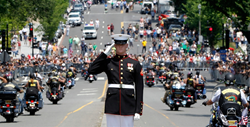 Families around America have more recently turned the holiday into a time for family gatherings and a celebration of life.
(PRWEB) May 23, 2014
Memorial Day is a traditional day of remembrance for the men and women who died while serving the United States Armed Forces. The United States Federal Holiday, which occurs every year on the final Monday of May, was formerly known as Decoration Day and originated after the American Civil War to commemorate the Union and Confederate soldiers who fell during the Civil War.
Cities and towns across America host Memorial Day parades each year, often featuring current military personnel and members of veterans' organizations. Some of the larger parades are held in New York, Chicago and Washington, DC. Memorial Day is also generally associated with the start of the summer season, it is common tradition to inaugurate the outdoor cooking season with a barbecue.
Families around America have more recently turned the holiday into a time for family gatherings and a celebration of life, with many special Memorial Day events happening around the U.S. at the beach, national media events, shopping, fireworks displays and the Indianapolis 500. One of the longest-standing traditions, the premier auto race event brought families together since 1911.
As Americans remember those who have served, and keep in their hearts those who currently serve, Pure Minutes knows how important it is to keep in contact with family. Pure Minutes would like a chance to offer free long-distance calls to families and friends wanting to keep in touch with anyone they care about overseas.
For a limited time, Pure Minutes is extending an offer to receive a $3 bonus with the very first online purchase. (Click here) to find out more.
To find out more about Memorial Day happenings in the neighborhood here are some helpful links to find out special events around the United States!
(10 Ways to Celebrate Memorial Day in Washington D.C.)
(Memorial Day events around New York City)
Pure Minutes is a prepaid international long-distance calling solution that has eliminated the need for calling cards. Pure Minutes provides low-cost international calling without the need of changing a customer's current landline or mobile phone provider that may have expensive and limited international calling plans.
To learn more about Pure Minutes and our amazing low rates, visit the website at (http://www.PureMinutes.com). Pure Minutes provides a low-cost international calling solution that works with any phone number, regardless of the current provider. This means that a user can enjoy the benefits of low international rates without needing to change their current landline or mobile cell phone service provider. Subscribed callers simply dial a local access number and through modern "Automatic Caller Identification" software, we can recognize a subscribed caller making the need for complicated PIN codes a thing of the past.
The Pure Minutes Difference

No Hidden Fees
No Connection Fees
No Maintenance Fees
Real Minute Rounding
No Contract Required
Minutes Never Expire
Low International Rates
Reliable, Clear Quality
About Pure Minutes
Pure Minutes is a leading provider of prepaid international long-distance calling solutions. We provide an affordable communication solution that offers flexibility, portability, and ease-of-use for both landline and mobile users. Pure Minutes offers competitive international calling worldwide with no hidden fees, no maintenance fees, no contract required, and minutes that never expire. Pure Minutes service is sold on the web and through regional and national retailers including MoneyGram, La Nacional, and payXchange; and is available to customers worldwide in English and in Spanish; and accepts payments through all major credit cards and Paypal.
Follow us on Twitter (@PUREMinutes), Facebook (facebook.com/PUREMinutes), and LinkedIn (PUREMinutes, LLC) for up to the minute updates.