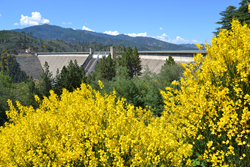 Shasta Lake, CA (PRWEB) May 24, 2014
The Bureau of Reclamation will start the summer tour schedule at Shasta Dam on Saturday, May 24. Daily tour times are 9 a.m., 10:15 a.m., 11:30 a.m., 1 p.m., 2:15 p.m., and 3:30 p.m.
Visitors are encouraged to arrive 30 minutes before the tour time and are required to check in at the Shasta Dam Visitor Center to receive free tickets. The tours are "first come, first served," and a maximum of 40 people are allowed on each tour. Free parking is available. The tours begin after a short walk to the entrance of the dam.
No bags of any kind, electronic devices or weapons, including small pocket knives, are allowed on the tour; however, cameras and cellular telephones are permitted.
The Visitor Center is open seven days a week from 8 a.m. to 5 p.m. A free video version of the tour is available in the auditorium, along with displays and exhibits explaining the dam's construction history. The Discover Your Northwest Gift Shop is also located at the Visitor Center.
Shasta Dam is located approximately 10 miles north of Redding, Calif. Exit at Shasta Dam Boulevard (exit 685) off Interstate 5 and drive west 6 miles to the dam.
For more information, please contact the Shasta Dam Visitor Center at 530-275-4463 or visit http://www.usbr.gov/mp/ncao/shasta/.