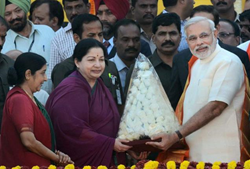 Yashwant Sinha, the foreign minister in the last BJP government, said last April 'Tamil Eelam is not far away'. We think this is a wonderful idea, and we support the BJP in this as in other matters
New Delhi, India (PRWEB) May 22, 2014
Tamils for Obama wrote a letter to congratulate Narendra Modi and his Bharatiya Janata Party (BJP) on their convincing victory in India's recent national elections.
"We are happy Modi and the BJP won," said a press spokesman for Tamils for Obama. "As we wrote in our letter to Modi, 'The Bharatiya Janata Party has pleased us in the past. BJP took an even-handed approach to the ethnic war in Sri Lanka, unlike the Congress party, which favored the governing Sinhalese. In the past, the BJP favored open-market, transparent policies which limited corruption and allowed the Indian and nearby countries' economies to grow, and we expect the BJP will do that again. BJP built a position of strength for India in the world. Indians liked this, and so do we.'"
The spokesman observed that when the BJP was in power, the Tamils felt stronger and safer.
Tamils for Obama further said, "We support Jayalalithaa, Tamil Nadu's Chief Minister, and we hope and expect that your government will listen to her good advice on matters concerning the Tamils."
The American Tamil group mentioned that "We favor a referendum among Tamils in the northeast of Sri Lanka and the diaspora who left the country out of fear. The country of South Sudan came into being after such a referendum in Sudan, and we hope that a similar result will be achieved in Ceylon. Jayalalithaa spoke in favor of this. We praise Jayalalithaa, and we hope that the BJP government will act on this.
"Sri Lanka is kept artificially calm by their military, but we are sure that it will burst into flame again and again. A renewed ethnic war in their southern neighbor cannot be good for India. Wars inevitably spread.
"Also, Sri Lanka has been flirting with China for years, and China has been greedily leering at Trincomale. A buffer state of Tamil Eelam will be good for India's long-term security."
Tamils for Obama pointed out that "Yashwant Sinha, the foreign minister in the last BJP government, said last April 'Tamil Eelam is not far away'. We think this is a wonderful idea, and we support the BJP in this as in other matters.
"We hope that you are able to govern wisely and successfully as you did as the Chief Minister of Gujarat." Tamils for Obama concluded in their letter, "and are able to win re-election in five years."