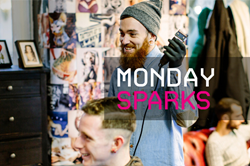 We all know what it's like on Monday morning to be faced with a list of projects as long as your arm, so we thought taking a two minute pause to read a nugget that sets the creative juices flowing would be a useful kick-start to the week for our customers
London, United Kingdom (PRWEB UK) 27 May 2014
Premium stock photography provider, Image Source, has launched an uplifting email marketing campaign designed to inspire creative professionals at the start of the working week. Subscribers will be treated to an email with a motivational, thought provoking message from specially selected experts in the creative industry every Monday, straight to their inbox.
"We all know what it's like on Monday morning to be faced with a list of projects as long as your arm, so we thought taking a two minute pause to read a nugget that sets the creative juices flowing would be a useful kick-start to the week for our customers," explains Lauren Munton, Marketing Director at Image Source.
Monday Sparks will deliver a bite-size piece of actionable creative insight every Monday morning before 9am.
Each email is designed to inspire content producers, marketers, designers and photographers to create the most effective communications they can, while also aiming to personally inspire and uplift the individuals concerned.
Image Source has been providing marketers, designers and creatives with artistic, distinctive photography since 1999 and count many creative industry leaders among their customer base. The Monday Sparks campaign offers a simple but effective method of collaborating and sharing that knowledge and thought leadership with the wider creative industry, while also helping to inspire and motivate fellow creatives.
"As we are constantly interviewing creative and photography experts for our blog, we wanted to share some of the little gems we found in those interviews in bite sized chunks," says Munton.
Those wishing to sign up to receive Monday Spark emails from Image Source can do so on the Image Source website.
Photographers, art directors, film makers and other creative professionals wishing to apply for their tips and advice to be featured in Monday Sparks should contact Image Source by emailing mondaysparks(at)imagesource(dot)com.
About Image Source:
Image Source (http://www.imagesource.com/) is a leading, independent photography agency offering a huge selection of premium quality stock photos. Widely celebrated for creating trend-driven imagery with high production values, they provide advertisers, publishers, brands and the corporate sector with impactful and emotionally intelligent Rights Managed and Royalty Free imagery for effective visual communications.