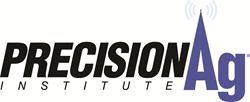 Willoughby, Ohio (PRWEB) May 28, 2014
As precision agriculture plays an increasingly important role in maximizing productivity, efficiency, profitability and sustainability in agriculture worldwide, a growing number of organizations are partnering with the PrecisionAg Institute to strengthen its advocacy, education and research initiatives.
Companies renewing their membership as PrecisionAg Institute Partners for 2014 include the following:

AGCO
John Deere
Raven
Simplot SmartFarm
SST
Topcon
Organizations joining as PrecisionAg Institute Partners in 2014 include these:

AgWorks
Midwest Laboratories
Winfield Solutions
The Climate Corporation
"Our grower customers are looking for better ways to make the most of their inputs, whether nutrients, seed or diesel fuel, as they strive toward increased yields and profitability," said David G. Webster, director of HHP Tractors and Advanced Technology Solutions for AGCO. "The PrecisionAg Institute is doing important work – conducting research, disseminating information, providing in-person education and developing a complete portfolio of grower solutions – to encourage more widespread adoption and effective use of precision agriculture technology. We are delighted to be part of the coalition dedicated to these important efforts."
PrecisionAg Institute Partners play a variety of roles within the Institute, from supporting informational speaking engagements, webinars, social media outreach and grower research efforts to sponsoring the PrecisionAg Awards of Excellence and serving on the advisory council, which sets policy for Institute activities and facilitates communication among industry organizations and individuals. Partners will also be integrally involved in the PrecisionAg Institute's Big Data Conference at Iowa State University on August 25, an event designed to address best data collection and management practices.
"We are committed to sharing precision agriculture practices, ideas, research, products, services and success stories through initiatives that grow stronger every year," said PrecisionAg Institute Business Director Daniel Ulrich. "Our partners are vital to this mission. With their support, we are delivering a message about smart farming and sustainability that is changing the face of agriculture around the globe."
###
The PrecisionAg Institute advances precision agriculture technology and its efficiency, stewardship and profitability on farms around the world through advocacy, education and research. PrecisionAg Institute activities include research projects, an online reference library, PrecisionAg e-news, the PrecisionAg Awards of Excellence and participation in industry events. For more information: precisionag.com