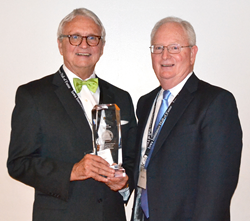 John Evans was a pillar of the Iowa insurance industry in the early 1900s. His contributions are many and remarkable.
Grinnell, IA (PRWEB) May 27, 2014
The late John Evans (1865-1944) was inducted posthumously to the Iowa Insurance Hall of Fame on Tuesday, May 20, during the organization's 18th annual induction ceremony. The honor was accepted by Grinnell Mutual President and CEO Larry Jansen on behalf of the company's second executive leader.
"John Evans must have been a visionary. He did not start his insurance career until the age of 40, but he became instrumental in the operation of three major Iowa insurance companies," said Jansen. "At the end of 2013, those companies had total premium writings of over $1.6 billion. It is a testament to his tremendous foresight and the footprint he left on the Iowa insurance industry."
Evans served as a founding director and the second secretary/manager of Grinnell Mutual Reinsurance Company, then known as Iowa Farmers Mutual Reinsurance Association. He led the company from 1934 until his death in 1944. During that time he relocated the company's headquarters to his hometown, Grinnell. He established the company's first inspection and loss prevention program that was credited with reducing fire losses. He also launched a communication program to increase affiliated mutual company and policyholder education, producing the company's first official publication, Teamwork, in 1936.
Evans was active in the insurance industry. He managed Poweshiek Farmers Mutual Insurance Association (now Poweshiek Mutual Insurance Association) in Grinnell from 1905 to 1944. He assisted in the founding of Allied Mutual Automobile Association (Allied) and served as its first president. His son and grandson later served as presidents at Allied as well. Evans also served as the president of Iowa Mutual Tornado Association (IMT) of Des Moines, among other corporate and civic involvement. Locally, he helped found Grinnell State Bank serving as its first president and was a longtime secretary of the Farmers Elevator Company.
"John Evans was a pillar of the Iowa insurance industry in the early 1900s. His contributions are many and remarkable," said Grinnell Mutual Corporate Risk Manager Wade Sheeler, who nominated Evans for membership in the Iowa Insurance Hall of Fame. "Mr. Evans was a great promoter of the mutual insurance industry and traveled extensively in Iowa and throughout the country promoting the concept of mutual insurance."
Evans was the third Grinnell Mutual leader to be inducted into the Iowa Insurance Hall of Fame, alongside Dan Agnew and the late L.G. Keeney.
About the Iowa Insurance Hall of Fame
The Iowa Insurance Hall of Fame was founded in 1997 to recognize outstanding contributions to the Iowa insurance industry. A selection committee evaluates nominations on standards including ethics and impact on the industry. To be eligible for consideration, nominees must have an Iowa connection, serve as a role model for young people as well as others in the insurance business, exhibit the highest standards of ethical conduct and have significantly impacted the insurance industry.
About Grinnell Mutual
Grinnell Mutual Reinsurance Company, in business since 1909, provides reinsurance for farm mutual insurance companies and property and casualty insurance products through more than 1,600 independent agents in 12 Midwestern states. Grinnell Mutual is the 123rd largest property-casualty insurance company in the United States and the largest primary reinsurer of farm mutual companies in North America.