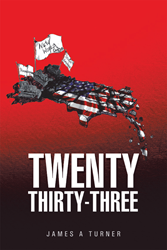 'America's future looks scary and I wanted to express my deep concerns in this book,' Turner said. 'If America excludes God I believe very deeply that God will exclude America, it is simple math.'
Benbrook, Texas (PRWEB) May 27, 2014
Progressivism and secularism: what once defined our nation is not the same as what defines it today.
Historical fiction "Twenty Thirty-Three" by conservative Christian James A. Turner addresses the downfalls of secularism and progressivism in America, hypothesizing what will happen to the nation if it continues the path its on.
"Somehow we think we're in control of America, God is always in control of everything," Turner said. "This nation is in chaos, very severe chaos and most don't even know it."
Turner's new novel projects what the state of our nation will be in the year 2033, drawing inspiration from an article published in the "National Review" called "The Four Horsemen of Progressivism."
Rooted in traditional values, "Twenty Thirty-Three" urges readers to consider the Bible's stance on social issues such as abortion, homosexual marriage and secular humanism in relation to current political parties' allowance of these issues.
"America's future looks scary and I wanted to express my deep concerns in this book," Turner said. "If America excludes God I believe very deeply that God will exclude America, it is simple math."
Twenty Thirty-Three by James A Turner
Hardcover, $30.95
Paperback, $13.95
e-Book, $3.99
ISBN: 978-1-49082-412-3
Available at amazon.com, barnesandnoble.com and bookstore.westbowpress.com
About the author
James A Turner is the owner of Turner Electric Co. and is a member of his local church, the Believers Fellowship Bible Church. His life is centered on God and family, and he has seen firsthand the social and political changes the U.S. has gone through. Turner lives in Benbrook, Texas, with his wife, Sharon, and two dogs.