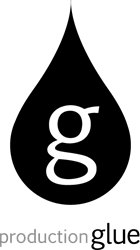 New York, NY (PRWEB) May 25, 2014
production glue, an award-winning event production agency, today announced its commitment to event innovation and sustainability with the addition of two new specialized staff members: Lowell Fox, Sustainability Manager and Production Manager for GreenGLUE and Dan Marcus, Technology Expert for production glue's R&D department, glueLAB.
LOWELL FOX – Sustainability Manager for GreenGLUE
Lowell Fox's diverse production background has its roots in live theatre, beginning his career as a technician in Philadelphia's non-profit theatre world. Lowell quickly moved up to become head electrician at a Philadelphia regional theatre, before moving to New York City, where he studied corporate responsibility and sustainability.
Lowell has most recently been an invaluable member of the production glue team as a freelance sustainability advisor, and we are extremely happy to announce his full-time hire as leader of GreenGLUE. We feel confident that he will continue the sustainability initiatives of production glue and craft practices that will lead to industry-wide innovation. One of Lowell's goals in this new position is to tie efficiency and sustainability, working towards a triple bottom line: people, planet, and profit.
DAN MARCUS – Technology Expert for glueLAB
Dan Marcus has an insatiable desire for the latest and greatest tech toys, a skill that will serve him well as the Technology Expert for GlueLAB. From his training in traditional theatrical scenic and lighting design, Dan became a sought-after lighting designer, whose broad portfolio includes lighting everything from mayoral inaugurations to concerts for Kanye West and B.B. King.
Dan recently earned his Master of Arts in Lighting, which involved the research of cutting-edge LED lighting systems, and is proficient in several computer code-writing languages, a skill that gives him a practical advantage when developing integrated event tech solutions. Fresh from his freelance stint at production glue, Dan is primed to light the way full-time for the next series of production glue event innovations at the helm of GlueLAB.
We are excited to announce these two strategic additions of the production glue family and look forward to their immediate impact on the production glue process and positioning production glue as a leader in the fields of event innovation and sustainability.
About production glue:
production glue, founded in 2006, is an award-winning agency partner that produces unique live experiences. Our clients include major brands, PR firms, marketing agencies, international festivals and often include A-list musical artists and talent. Through our team's versatility and breadth of experience, production glue influences the strategy & execution of the coolest and most ambitious events - the more challenging, the better! For more information, please contact info(at)productionglue(dot)com.