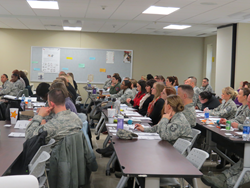 IL Dept of Veterans Affairs faces 22% cut in services as of July 1, 2014 if legislators don't act on the state's revenue problem, said Barbara Otto, CEO of Health & Disability Advocates.
Chicago, IL (PRWEB) May 24, 2014
This weekend when we honor Illinois Veterans and their families, advocates and community based providers are acutely aware of the serious threats to programs that serve the state's 740,000 Veterans.
"The lack of action in Springfield on maintaining much needed revenue has serious consequences," said Barbara Otto, CEO of Health & Disability Advocates. "According to the IL Dept. of Veterans Affairs, Veteran's programs in IL are scheduled for a 22% cut in services by July 1, 2014 if there is no action. This will be devastating for Veterans and their families. It means closing multiple Veterans Homes, laying off staff that serves Veterans and their families, as well as cutting payments on education grants that support children of Vets killed in combat." For more information about these budget figures for the IL Dept of Veteran's Affairs go to http://1.usa.gov/1kdPuR1.
According to Marvin Lindsey of the Community Behavioral Healthcare Association of Illinois, from 2009-2013, the Illinois community mental health system saw $113 million in cuts to services for children, families and adults, including veterans and their families. If the income tax is not maintained, vital services for 30,000 adults and children with mental illnesses could be eliminated. The much needed mental health services that thousands of veterans in Illinois who have no resources or who prefer to receive treatment in the community and have come to depend upon could be eliminated.
"The $71 million in cuts, if current revenue is not maintained, would create barriers for Veterans and their family members to access crisis services, outpatient services, psychiatric services, medications, housing services and in-patient hospitalization," commented Lindsey of the CBHA. "These proposed cuts come at a time when numerous community mental health providers have committed to serving veterans and their family members through a host of innovated program specifically tailored to veterans and their families."
"The IL General Assembly needs to back up their lip service to honoring the service of our state's Veterans with action. Kicking the can of our revenue problem down the road for another session isn't the answer," commented Otto.
HDA has a 20 year history of working with populations living at the margins of economic and health care security both in Illinois and throughout the nation. Since 2011, HDA has been distributing resources and building the capacity of communities and providers throughout Illinois to better meet the needs of Veterans, military Service Members, their families, and families of the fallen. HDA's award winning Warrior to Warrior aims to bridge the gaps between military service and civilian life for military service members and Veterans through recruiting volunteer Veterans from all branches and eras to serve as peer support and direction for returning Veterans, Illinois Army National Guard, and their families.
The Community Behavioral Healthcare Association of Illinois (CBHA) is a professional trade association representing community behavioral healthcare agencies in the State of Illinois. CBHA advocates on behalf of the community behavioral healthcare industry and provides information to members, legislators, consumers, family members, and MORE.