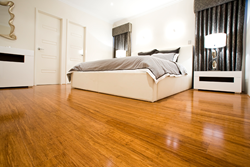 (PRWEB) May 26, 2014
Recently, BambooIndustry.com, the distinguished bamboo product manufacturer and retailer, has unveiled its new selection of solid strand woven bamboo floorings. What's more, the is now providing deep discounts on all these brand new floorings, up to 27% off.
The current special offer will last until June 15, 2014; those who want to get discounted, high quality bamboo floorings should visit the company's website as soon as they can. The company's workers are pleased to announce the fresh items, and they are working hard to serve new and old clients in a better way.
The new selection has over 1000 items in it; each of them is made from natural materials. At its online shop, the company insists on offering amicable pre-sale and after-sale service. All its items are very practical. Most of them are among the hottest items in the international market. At BambooIndustry.com, a high quality bamboo product is no longer a luxury investment. All its solid strand woven bamboo floorings are quality made by experienced staff.
Owing to its top quality solid strand woven bamboo floorings, BambooIndustry.com has gained plenty of positive reviews. Almost all of them like the company's natural products and they are satisfied with its online service.
About BambooIndustry.com
BambooIndustry.com is a website that belongs to BothBest Bamboo Flooring Co. Ltd., a professional supplier and exporter of bamboo products. Certified by both ISO9001:2008 and ISO14001:2004, the company has 8 years of experience in the manufacturing and wholesale of bamboo flooring products. It strives to bring its customers the latest styles and innovations of bamboo flooring, bamboo paneling, bamboo plywoods, bamboo furniture, and other bamboo products.
More information about the company's natural items can be found at http://www.bambooindustry.com/bamboo-flooring/strand-woven-natural.html.