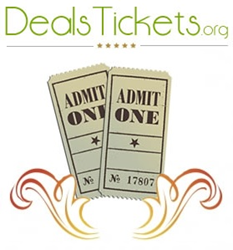 Sports tickets like NBA, NHL, MLB and NFL discounts plus popular concerts and Broadway shows, both in New York City and road shows. highlight the events available at Military.DealsTickets.org while discounts increase this week from 7% to 10%.
Dallas, TX (PRWEB) May 26, 2014
Ticket Deals and hotel rebates offered to military veterans, those currently serving and their families come together in a set of websites from Financial Firebird Corporation with benefits increased this week in honor or Memorial Day.
Getting military discounts on sports tickets, concerts and theater tickets stand as the easiest way for veterans and those currently serving in any of the armed services to save money from the suite of sites offered from Financial Firebird Corporation. Available tickets include all NFL, NBA, NHL and MLB games as well as special events like the NASCAR races, the US Open tennis championship or even World Cup soccer. Popular concerts selling now feature acts like The Eagles, George Strait, Luke Bryan, Billy Joel and Cher. By using the coupon code MIL5M1 at Military.DealsTickets.org soldiers and their families get an instant additional 7% discount when they place an online order and for the next week that increases to deduct 10%. Tickets from the site come from the secondary resale market, like Stub Hub and similar sites, often offering the exact same seats. But in a same seat comparison not one of the 25 competitor sites reviewed beat the prices offered by Military.DealsTickets.org. The site will serve users best when they want tickets for sold out events or premium seats like floor tickets. Specific events with discount military tickets include pro sports, concerts or Broadway Shows.
Military Hotel Deals allow people to select their own hotels from thousands available throughout the United States and internationally. The regular prices on the Hotel Deals site will match or beat the prices found on any major internet hotel site. To make the offer even more special military personnel can take advantage of an additional 5% mail in rebate and as with the tickets, rebates for the next week double to 10%. In fact, people will find almost any hotel they have in mind, including most national chains and fine boutique hotels as a part of the network offering these discounts for veterans, those still enlisted and their families. For more ticket and hotel deals Financial Firebird will offer 10% military discounts this week off of its Broadway Ticket Packages including hotel accommodations, show seats and dinner.
Military Online Shopping Discounts come in the form of mail in rebates. Categories include shoes, luggage, travel accessories, swimwear, jewelry, wedding goods, golf equipment, art, cosmetics and hair care products. Depending on the items purchased rebates for shopping range from 4% to 5% cash back.
New military discount tickets pages feature tickets with especially cheap prices near major military installations. Look for Los Angeles or San Diego tickets for those serving at Miramar or Dallas ticket discounts for military personnel at Fort Hood including discounted seats for San Antonio Spurs playoffs or the George Strait Dallas concert tickets.
These offers to military employees and their families do not expire with no limits that prohibit using the site multiple times, but the increased discount in honor of Memorial Day expires on June 1, so take advantage of the extra savings while it's available. Popular sports tickets this month include the LA Kings, international soccer games, Miami Heat, New York Rangers and MLB games like the Yankees and Red Sox or use the discount code to see any game or show. Those who served in the military gave a great deal of their lives to keep the rest of us safe and free, we welcome them to take a little benefit back with our thanks.
About Financial Firebird Corporation and DealsTickets.org
Financial Firebird Corporation provides unbiased consumer information, software and marketing services for the mortgage, debt relief, foreclosure, auto lending and other financial, travel or real estate related industries as well as basic marketing, financial and website services for all companies. Established 2000 and a proud BBB member. Programs similar to this one designed for the military may be programmed for other charities or organizations for either discounts, donations or member benefits, call Financial Firebird Corporation for more information.